The photo above is a source of inspiration.
I aimed to get knowledge from people who achieved something in their life. I chose two bloggers that are important to the media community. Internet gives great opportunities for the users, sometimes it makes people famous. I guess, we all have followers nowadays.  The question for me is what is it to be a media guy? I wanted to get a better understanding of certain processes (How it is made? What is that for? How does it work? How did you get there? etc) and ask some personal questions or advice on a topic of common interests. I started with writing an email, in which I introduced myself, explained the idea of the project and said, that I would love to meet them, if possible, and have a personal talk. At this point the meeting was important for me, but I knew things might go wrong and I was prepared for that, as it is part of the game.
I reached Good Guy Boris from thegrifters.org [x] to talk about street culture and his personal artistic experience. I chose him, because, in my opinion, he is a great example of anti-style graffiti artist, as well as street and urban exploration photographer, media-guy, curator and book publisher. He has been around for many years and came up with a lot of cool and funny content, that gives an insight into mysterious, for general public, world of graffiti. Most of artists/vandals tend to hide their identity, Boris, on opposite, does not want to do that because, he claims graffiti is not a bad thing! So, he became the middle man between graffiti elite and ordinary public. It is great, because a lot of people do not know what the language of the streets is.
Michail agreed meet and said, that he might be in Helmond, Netherlands soon. That was perfect for me, because, it is only one and a half hours away from Amsterdam and I had no need to leave the country. Unfortunately, I did not get any confirmation before the arranged date and the meeting, obviously, did not happen. Although both Boris and Michael were kind to reply, they explained, that at the moment they have no time to answer my questions, but they appreciate my interest. Maybe, one day, but not this time. That was the answer.  I had to come up with an other option.
So, I wrote to Utah&Ether, a couple, famous within graffiti community for doing pieces around the world. They are called Bonnie&Clyde of graffiti world and left a mark in many exotic places, mostly on track sites, trains and public areas. You could find their pieces in the Netherlands as well. It would be truly amazing to meet them in real life. This time I got no reply. Luckily, they have been interviewed many times, so I had some good material to read. There is link to check: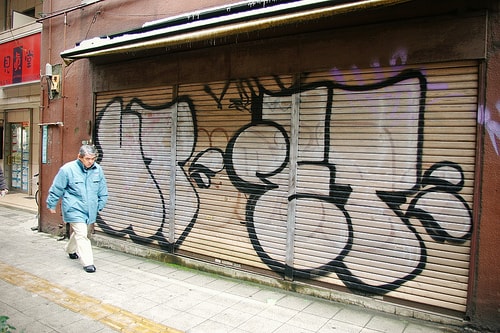 I guess, I did not manage to meet anyone, because my intention was not clear enough for them, or they were really busy.  Maybe, we are just on the different levels.  Now, I got no one to rely on except for myself. I had to put away my questions for a certain time and continued working on my own. Lately I came up with this: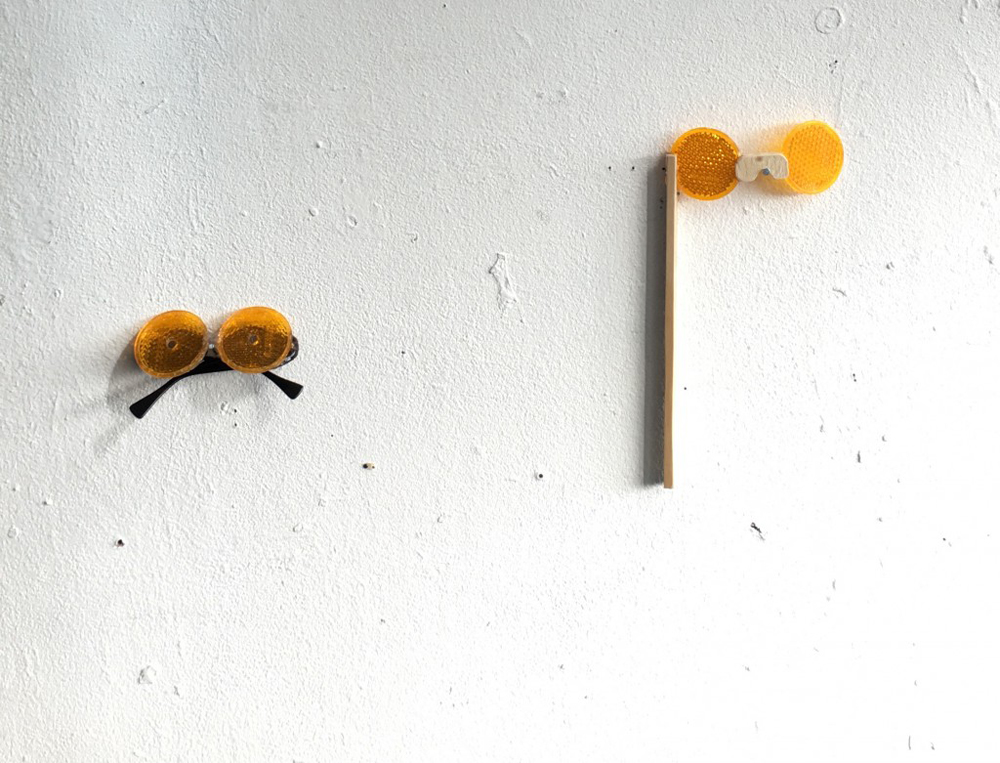 The glasses with great visual effect, which is produced by an optical illusion.
I was not satisfied with my first result, so, I did a cleaner version, with an understanding what I want from it. This time lens worked well. After having fun with it I looked through it with a camera. The image that you get is orange and combined from different planes, smoothly merging into each other. I love the fact that these images are like that, because of the way it works, without editing. No photoshop. Here are some examples:
——————————————————————————————————————–
The visuals, that I got out of the process are truly fascinating. It is an orange madness. Complete disorientation. Perception of space and things entirely changes.
To sum up, I did not get much practical information from the experience, which supposed to be a meeting, but I ended up with a great visual material and new way of getting it. I guess one day it would not be a problem to meet these people. For now, I am happy with the outcome.