I CAN'T
WORK
LIKE
THIS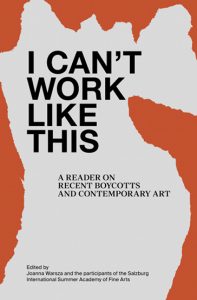 I chose an orange book, the size of a big holiday novel.
But with a cover much more animated than a novel. The title in bold, immediately intrigued me: I CAN NOT WORK LIKE THIS. The title is a point of view, an affirmation, which one wants to understand by opening the book.
The typography of the title and the first pages is impersonal, an imposing typo: Helvetica. But page after page, we discover a set of typography that become more and more specific and personal.
To start with a novel writing: the Times New Roman, then the typographic style of a typewriter: Adler, and finally manuscripts.
The paragraphs are changing too. At the beginning they are inserted in a serious and strict way on the right of the pages. Then the paragraphs come to life, and bend in all directions; others follow the shape of the images, or we find paragraphs that are divided in the same way as an agenda.
Each time the titles are put forward, they are much more imposing and have an important line with the paragraph.
Unlike typography and paragraphs, the images keep a conductive line throughout the book. It is the torn paper effects that surround the images that organize the book as a collage.
All images are in black and white. There are drawings, photos, collages, screen shots of Facebook conversations, and emails. There are also many scans of manuscripts, with arrows in all directions, to follow the reasoning of the creator.
The edge of the book is also noteworthy, because the page borders overlap the edge. There are black lines that remind the tears of the book.
Everything looks like a patchwork. Having been watching the graphic designer's Instragram : Krysztof Pyda. On it we can see his collection of images he likes, we find this same idea in his book, a compilation of different things, past and present reunited.
I chose this book because I liked this way of entering the intimacy of the creator. Each page is a surprise, each time more personal than the previous one. It intrigued me like a diary.