"book cover" Tag
Wednesday, September 8, 2010
One of the first things that strikes Me is the enormous amount of love and energy Irma Boom manage to include within her books. The endless dummy samples to find the right presentation format, the anti-commercial printing and binding methods and the endless corrections are all part of it. It almost feels like the books of Irma Boom are from another planet.
For that reason I found it hard to pick out one particular book, so I asked myself the question; what is for Me the most important part of a good book, the reason to just grab the book and get lost in it. For Me a book is really about a good cover at the first place, one that strikes my attention by being unusual or reminds my of something else I'm interested in, so after I realised what is important I picked the CAR GIRLS book by Jacqueline Hassink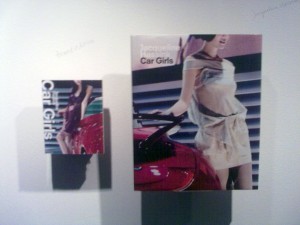 That particular book immediately reminded me of the LP "Grand Prix" by the Belgian band Vive La Fête.The cover (and also the cover of the LP) gives me a kind of exciting feeling, the idea that it's really cool to drive really fast ( I don't even have a car) and to have a sexy "Car Girl" like girlfriend behind the steering-wheel.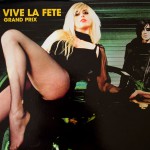 Monday, March 30, 2009
After first book with works of illustrators i tried to find some book which is focus more on describe the contents then on story telling. "Penguin by Design: A Cover Story 1935-2005" by Phil Baines is about that. Rich with stunning illustrations and filled with detail of individual titles, designers and even the changing size and shape of famous Penguin logo itself, this book shows how covers become design classics. That what i like the most is very simple, but in the same time very fitting covers design. Book filled with inspiring images, Penguin by Design demonstrates just how difficult it is not to judge a book by its cover.
cat.no. 758.1-bai-1
keyword: illustration