Write me something
and I will try
Try to read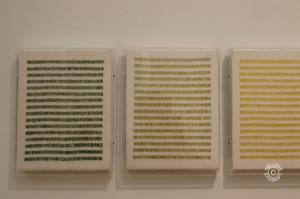 Gekleurde brieven (Coloured Letters) is a work from Corrie de Boer made in 1977 and exhibited in the Stedelijk museum, as part of the permanent design collection.

The work is 9 letters next to each other. Embroidered letters in different colours. None of them actually readable, but giving the intention something was written. This was the work that talked to me the most.

I wonder, if you would be allowed to touch the letters with your fingers, that could maybe make it possible to read the letters, like a blind person. Since these letters only seem to be real, but looking closer nothing is actually readable, no real word is used in the embroidered letters.
Each letter got its own colour. Dark green, light green, yellow, orange, red, burgundy, purple, dark blue, light blue.
Each colour implying it's own meaning.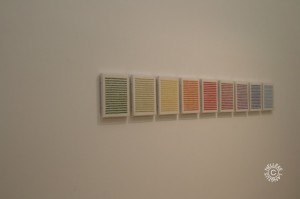 In the previous assignment I chose the catalogue of the museum to write about, this time again it was something that was about written text. This was also about something not clearly readable since the cover consisted of white letters on a white (glossy) cover. The texture of the letters were enabling the observer to read the title of the catalogue. But also the inside of the booklet was not a clear projection of what happened during the exhibition. It became a work on itself. It was a poem.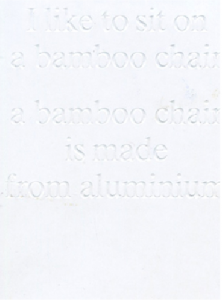 In the theme faux, one looks at mastership, embroidery has been a mastership used for many decades. But the mastership is not the reason I chose faux as the theme that fitted the work, but it is the imitation of the written letter that fitted this theme. From a distance it seems so real. Like a faux letter. So then you would love to know what's written and come closer, so close your nose almost touches the surface and even then it is not readable.