Oil, canvas, metal, clay,
Met in the Stedelijk one day.
A strong effect can be produced with simple actions. Sometimes it makes a big difference just to put together things that never met each other before.
Maarten Baas's clay furniture is something that I didn't see at the times of the old Stedelijk permanent exhibition. The composition includes are different size coloured chairs, a bookshelf and a small table. Objects are placed on white square shelves attached to a wall on different levels. They are actually made out of a synthetic clay put on top of a metal skeleton.
It would be difficult to write about only one of these objects because they are placed so close to each other that I immediately thought of them as one composition.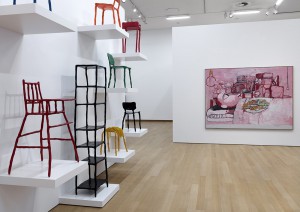 The wall where all the clay furniture is exhibited happens to be next to a painting "Painting, smoking, eating" by Phillip Guston. This neighbourship doesn't seem to be random. Put in this corner of space the all these objects create a common vibe. Thick and handcrafted legs of clay furniture resonate with fat lines of paint on Guston's canvas. The furniture and the painting are so alike that you can easily imagine these chairs, the table and the shelf to appear from the Guston's painting which makes them highly connected. The painting is so much overlayered with paint that it produces the visual effect of the furniture almost dripping on the floor. Both furniture and painting have this tactility in them. You can see how thick and greasy the layers of the paint are so you want to touch the cars to feel the softness of clay.
To conclude I'd like to emphasise again how beneficial the neighbourship of these objects happened to be. Putting Guston's  painting and Baas's furniture together solved the problem of placing artworks in the space in a whole new way.