I found « Clay furniture » by Maarten Baas really interesting as a design object.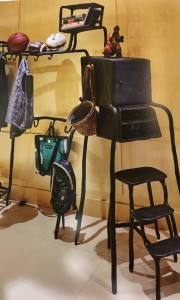 First of all, I noticed the colors. Afterwards, the shapes. My first impression of the piece was that it was more similar to a three dimensional drawing than to an object in space. It has very clear lines and really simple shapes. I like this work because, more than just being a practical, usable furniture, its unusualnature made it seem more like a work of art. Maarten Baas tried to build objects that remind a part of the human body, I saw that when a man sits on a chair he becomes one with this chair. He was inspired by the human body to give a unique shape to his furniture. In this way they become like molds of the human body.
By using clay as his material of choice to create his furniture, it seemed to me that the artist was expressing fragility. The shapes that the clay creates (not straight or parallel lines), adds to this idea of being fragile. Again, I think this refers back to the human body and its own fragility (bones can brake).
The shape of the furniture is very fluid. I got the impression that the legs were almost moving. It isn't a very solid shape, not fixed to the floor. It's a very fluid shape.
The chairs have a very different form than that of the classic ones (which we would expect from a chair), although his purpose was not to recreate the classic chair.
The colors used aimed to give life to these objects. Maarten Baas changed the nature of a stool and a chair. It's not even just a chair or a table, but something we are going to live with.
This design work takes place on « Jump in to the futur » 's exhibition which gives us an idea of what was and is the 90's and 2000's design and how it grew up during the years. I gave my attention to the neons 's work which, for me, made a guiding principle during the whole exhibition, the works of Cerith Wyn Evans, Bruce Nauman and so on. When arrived in front of the Clay furniture of Baas I directly thought about these neons which linked the art works between each other, with these clear lines, easy to break like the glass of neon; they all looked like uncertain props. I also saw a real freedom of color during these 90's and 2000's designs which pursued in Baas' work.
I finally found smart to put the « Clay Furniture » close to the paintings of Maria Lassing and in front of a big installation where we have to look above the wall to see what's happening, because « Clay furniture » also looks like ladders.
Quite ironically, Baas has tried to bring life by torturing.
Going from decomposing a ready made to creating an artwork in its whole, metamorphosis remains the link to his works.
He firstly buys ready made furniture, which he destroys to create his own. From life, he uses death to give birth. Cutting, mutilating, burning, he ends with the suffocation of the object by applying varnish, letting the object remainwhat it has become.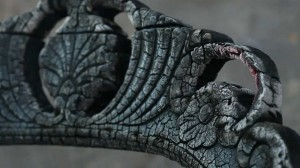 Uncertain, colorful shapes, simple and childish, Baas tenderises us with his Clay furnitures. The proximity with the human body surely does give us a sympathetic effect.
Torned feet, broken back, Bass plays with this uneven symmetry to destabilise us. Will they dare to?
Although seemingly nurturing with this simplistic and joyful harmony, I wonder if these works really are as sympathetic as they may let you believe. With these harsh, cold materials, what would our bum think when sitting on a chair made of clay? Wouldn't the fragility of our bones be going through hard times?
Fragility of the human body, fragility of clay. Have we ever wondered if a chair would be fighting our weight? Alike human legs, the chair's feet seem uncertain. Homemade, these furnitures take a more artistic dimension than that of a classic one. With these fine drawn lines, as I said above, the air runs through and gives to this chair, this table or this cupboard a lightness that reminds that of a three dimensional poetry. The softness of the paint recovered of varnish gives more comfort to the mind than to the body; however aren't they both as important?
These furnitures become a real nice company. A touching fragility, friendly presence, comforting colors, amusing shapes, childish naivety.
Baas works in harmony with space, and finds a way to link his works.
Starting with very gloomy, dusty works, darkness reigns over his graduation work.
Baas has produced a real contrast between his two works « Smoke » and « Clay Furniture ».
A real meltdown of materials, processing and concepts, Baas presents us two projects which have similar use but are visually opposite.