Pick a book.
In an art school library.
It has to be a book purchased in 2016.
How to pick a book, with restrictions purely based on a timeline of their purchase.
Take the list, go through it without any idea what these books look like…
Don't take yourself too seriously because you have no idea how to go about it for now..
What's that?
Holy bible.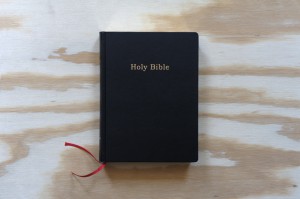 Interesting choice for the Rietveld Academie to purchase in 2016…
Being my miscreant self, I picked this book to have a laugh, a holy bible for a design research project? Maybe I could fake a convincing argument about a discussion I had with god about his design thoughts on the book that holds, inter alia, his biography…
Someone's been worse than me:
As I open the Holy bible, I discover each page has its text partly or completely covered in photographs and parts of the text is in red. This bible instantly becomes a revelation to me. At first glance, as I carefully look through these images and corresponding red text highlighted from the bible, I feel someone has exposed the hypocrisy the value of a bible holds in our society through the images of our history.
Now that I've picked the book, not because it fit for the assignment, but out of curiosity and excitement to find an interesting book, with its design being rather simple, after all, its a bible. I had been deceived by this bible. Presenting itself on the outside, as a typical bible, black, gold, "The Holy Bible", simple.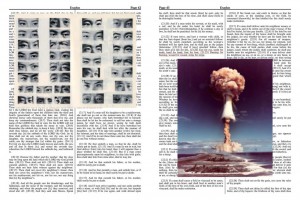 I had picked it thinking it was a real bible i could have a laugh about, and it turned out to be a bible closer to my world view in a sense. I was deceived by the design of this book.
I started wondering to myself, what if a religious freak had picked it? How would a conservative christian react to picking out a bible, that been "edited" by two artists?
Does it even matter?
Holy bible /Rietveld library catalogue no : bro 1