This poster is one of the first works that is exhibited at the Stedelijk when you enter the base. I spent a couple of hours at the museum looking at everything, trying to look for different options, but in the end it is the first one that I saw that made the cut.
It is a litograph made by Jan Toorop in 1894 for the Dutch oil company Olie Fabriek (NOF).
But it is also because graphic design (and in this case advertisement) can be forgotten; when people think about design, the first things that usually comes to mind is furniture. I then wanted to investigate how different it would be to research in this field of design.
I first started by going to the school library and found three books about Jan Toorop, two in Dutch and one in French. In art books, Toorop's posters are always quickly mentioned, if ever mentioned at all. Most of them focus more on his paintings and drawings and his advertising period during the 1890s is largely overlooked. But what would there be to say? It seems to be a question I cannot find an answer to. I find it strange that this piece is considered one of the most famous works of Toorop and Dutch Art Nouveau and that there very few information and texts about it.
Furthermore, when I did my research on the internet, only basic information showed up, usually on museum's websites like the Rijksmuseum or the Victoria and Albert museum in London. Both of them have a print in their collection, that's why you can find it there: a picture, with a title date and dimensions. So no analysis or study or history or context like I expected. For instance there was only one website (the Moma) that mentioned the company this poster was made for; you can find the initials on the poster (NOF).
Another thing really intrigued me: in the first websites popping up under the research bar were both Christie's and eBay. On the first one, original 94×64 cm prints are auctioned from 22500 euros. On the second one 53,7×12 cm prints are sold for 25 euros. The one in the Rijksmuseum is 95×62,5 cm, in the V&A it is 101×69,9 cm. I alsou stumbled upon Vintageposter.nl who retailed two sizes, for 50 and 70 euros. The posters always come in different sizes and prices, original print or not; they even come in different shades since Toorop made versions with slightly altered color schemes. I also came across stamps with the design printed on it.
Everything published before 1928 is automatically public domain, which is the case for the Delftsche Slaolie poster (which was created in 1894); it means that with no copyright, anybody can use it. If I wanted, I could sell postcards like this person on eBay or commercialize shirts with this image on them.
This thought also made me realize another weird thing: when I was browsing on google images, I only found pictures of the poster alone, but never in context. At first, this affiche was supposed to be an advertisement, but I never encountered a photograph showing a situation where this work was actually put to its initial use. I also expected to find pictures of this poster as decoration, since it also sells like this nowadays, but absolutely nada.
After searching for a long time I only found one image with a framed poster. It was on the website of a gallery and the piece was sold for an unknown price.
I started wondering about the fact that more than a century ago, people saw this on the street like we see advertisement ourselves nowadays; we wouldn't think about hanging this Oatly poster that has been all around Amsterdam on our wall and maybe the people back then would have laughed at the idea of putting the Delftsche Slaolie affiche in their home.
I went to the Rijksmuseum again but couldn't find a postcard of the work in the giftshop. Since I couldn't find any picture of the poster in context, wether it be advertisment or decoration, I would do it myself, and I decided to do that with a kitchen wall because I figured that most people would hung that in their kitchen. It is food related after all.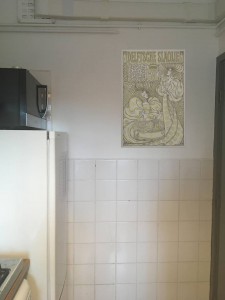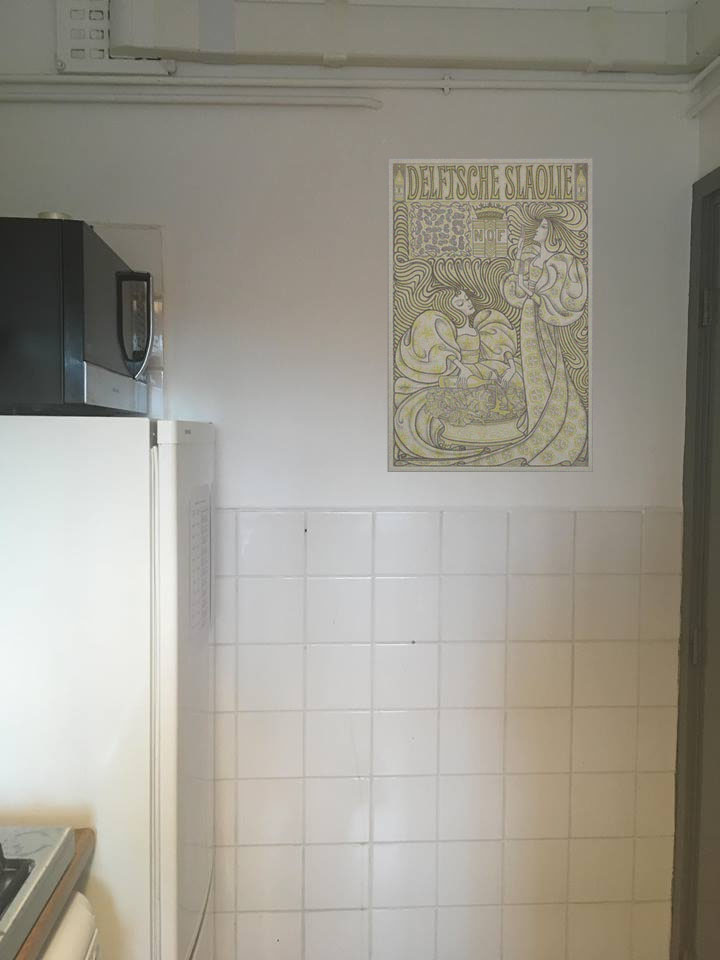 If I print it myself at school in good quality and same size as the original it would cost me a couple a few euros, and maybe it would be even better than the eBay or Vintageposter.nl ones. I will have to do that for my grandmother so she can add it to her collection on her toilet wall.