Dave Hakkens creates machines to recycle plastic. The concept Precious Plastic is that everywhere, everybody can build themselves these machines and recycle their plastics. For me, the most interesting point in this concept is the community around it. He says
"To start up an idea is a powerful tool to use these days. A designer is able to bring people together by just sharing an idea or a potential solution."
Dave Hakkens and his projects are accessible in two points.
Most of his design projects are often provides with open-source instruction videos and blueprints, so it is presenting as a do it yourself project. You can inform yourself, make your own machine or your design object, share on social network, and use it. Make and use these projects is to be active to change the system, and be a designer as well.
Furthermore, he is very active on social networks. On Youtube (with 122 000 followers), he often published videos to clearly explain his projects, how to make it etc. But also he has a certain way of life that you can clearly see in his videos called Story Hopper. Some links: here and
here.
If I had the opportunity to talk to Dave, I will ask him if he thinks that in addition to this solution to reduce plastics wastes we also must have to adopt a minimalist and zero waste attitude. And the answer is manifestly yes. These videos fit perfectly with the sharing of opinions and go further in the ideas that he wants to give. He offers more than just designer content while playing with the border of social network influencers.
Also on his website, you can find the forum where you can talk with people around the world. It's nice to see all these people who said « I want to recycle plastics but I don't know where to start » Finally I understood that in this big community, some other little communities are created to make projects easier. On the topic, someone answer: « try to find people, and build an association or something with many people to reduce costs!»
V3 Exhibition during the Dutch Design Week 
I am wondering how this concept can grow and evolve in the rest of the world. Are social media enough to share his ideas? The definition of the word community by the Oxford dictionary is: "the condition of sharing or having certain attitudes and interests in common". Dave Hakkens and his projects are accessible for those who know him and who share the same interests. Plastic machines were at first introduced in a museum as an exhibition. So a certain public is interested to see it and in this kind of place, it doesn't have the same purpose. It is difficult to apply something that you just saw in a museum. You can maybe just except to have a discussion but not really a revolution. What effect would he have if he presents his project in a hardware store? 
I knew Dave Hakkens thanks to my sculpture class at the Rietveld Academie. Indeed, some students were able to create one of the plastic machine, the injection machine. I spoke with one of these students and she gave me an interesting reflection: « He says that everyone can build those machines, it works for us because we are in art school, so we have all the materials needed and we always can find a way to be creative with the plastic machine, but not sure it's the same in poorer countries, because it has a cost and maybe they did not hear about the Precious Plastic project»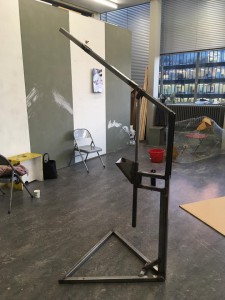 Injection machine in the Rietveld
Dave Hakkens went in 2015 to Ganah for research. Also just a few weeks ago, he shipped a big container to the Maldives, to clean ocean. It is important because "the risk" of this way of building plastic machines is to build them for a personal use or very restrained, as the weekend handyman in his garage. But create this container, place of many workshops to recycle plastics can expand the utilization. Indeed, it can not be an activity in its own right, but it should really be part of our way of life and as we can not spend our time recycling plastic, we may wonder if this community of active people is enough? What about the big industries? In fact, there is a start-up called The Plastik Bank which collaborates with the big industries. Plastic waste that invades the poorer regions of the world is collected by local people and then sold to companies that recycle it. But finally, Dave Hakkens gives the opportunity to communities to create something with plastic, be autonomous in the research and then win money (if they decide to). It is really like build something new, maybe a new society.
To say goodbye: very interesting article on other people who tried to find solutions for plastic wastes.