CC is an artist living and working in Los Angeles. He is formerly known as Christophe Coppens or the mad hatter from the country of surreal art and comic books, Belgium. His career as a hat designer started when he was only 21 years old.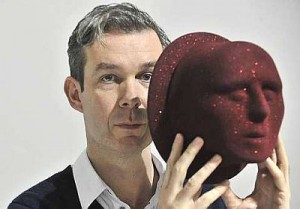 Surreal hats designed by him were worn by Rihanna, the queen of Belgium and others. In May 2012 he decided to chuck that career,  closed his business and become an full time artist after 21 year of designing. He had been producing art works together with the designing but came to the conclusion that he could no longer combine it. As he said:
"You can't be a good artist with the mentality of a fashion designer. And I didn't succeed at being a part-time artist."
His first exhibition after becoming 'fulltime artist' showed his work called landscape 1. Later he made and showed the work Landscape 2.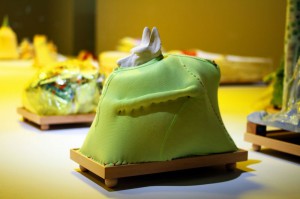 Now he is taking part in the exhibition at Boijmans museum in Rotterdam, The Future of Fashion is now. There he puts together the two works Landscape 1 and Landscape 2 and gets work that he calls Landscape 3. It's an installation that includes shelves full of sculptor mountains. The mountains are all mounted on wooden stands that may be references to theater stages (see more on this website [x]) They are made out of his old clothes that he cut down. He did that after he noticed that all his clothes were linked to who he was before (he became a full-time artist) almost literally costumes for the person he showed outwards for interviews and such. Nothing fitted him anymore he said, not literally but figuratively speaking. He also used some of his old furniture for the sculpture mountains. It became some kind of capsule of his future.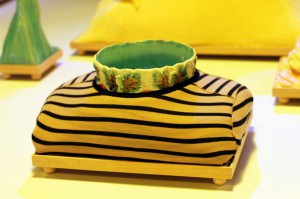 So could it be that CC is recycling his memories in this work? His memories and personal story that he wants to put aside but at the same time still enjoy?
Poem
It is an universally accepted fact and the
theme of our modern age, -
That for an efficient waste management,
Most of our items must be recycled once
again!
Optimal utilisation always brings,
Economy of effort, – a plausible thing!
But when I try to recycle my thoughts;
Those old memories of yesteryears,
Where some are pleasant, while others
bring tears!
They all remain entrenched in my mind to
stay,
And cannot be recycled even to this day!
My good old values and sober tastes,
When I try to recycle with a modern remix;
Like those old nostalgic songs are ripped-off, -
Their haunting melody and tender words!
All stripped naked to become a curse!
And my eternal soul which lies caged within,
Must patiently await many a re-birth;
Cannot be easily recycled or tampered with!
For that remains the prerogative of the good
Lord,
And beyond the domain of the recycled lot!
-Raj Nandy
In this time were everything has to be recycled or recycle able CC is recycling his memories and personal stories. He is using his past to grow and keep on living his life. His future is helping him to develop his skills and keep on moving towards the future.
Tips from CC: Enjoy the present and wear sun screen- video