I love the lines: a pure geometric simplicity.
I find something very honest in this forms, it's absolutely clear and strict.
When lines combine in order to create something else it becomes very interesting.
When I first saw Bram Boo furniture, I immediately loved those « messy boxes ».
I had no idea what it was about, what was the utility of those, or do they even have one.?
The surprise created by the misunderstanding towards the furniture seduced me.
Bram Boo
Overdose Storage
2011, wood
Boo creates furniture as autonomous objects. They are not only surprising, but also unique and poetic: they force the viewer to reconsider his daily habits.
The designer wants to be free in what he creates, to have fun.
Why desks and chairs in workplaces would have to be so serious? He prefers them being silly, joyful or not at all what you would expect!
Bram Boo is a mix of two strong cultures like he says.
He comes from a Dutch family having an artist as a father, but he was born in Belgium: a country of surrealism.
So in a one hand he's strict and meticulous in his work but in an other hand he's messy, absurd.
Boo's working with straight and geometric forms but in a chaotic way. In his « overdose storage » he came up with the idea of disorder boxes.
This  « chaos » bring a lot of dynamic to his work.
In 1997, at the age of 25, he started at the Royal Academy of Art in Hasselt, Belgium, and ever since has steadily established a fantastical design language all of his own.
Ineke Hans
Ordinary Furniture Sets
1997-2005, recycled plastic furniture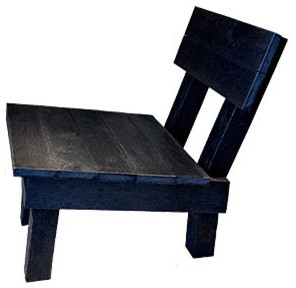 Like Bram Boo, Heneke Hans is working with the elegance of the line.
This ordinary chair has a structure that reminds one of wood, but it's not, it's a lie.
Heneke Hans has used a recycled plastic for her furniture; the material has some practical aspects which make this chair perfectly suitable for indoor and outdoor.
By using very simple shapes those furnitures may please the largest number possible.
She's very interested in new and traditional materials and techniques, common sense,  intelligent use of materials and decoration.
In her sense, new products should only be designed if they really contribute something big interest in sustainability/durability. This way of thinking change a lot from the general thought of nowadays society: produce with planned obsolescence.
Ineke is investigating the psychological roots of products, perceiving and playing with the interaction between people, objects and space.
Ineke Hans is seen as one of the leading Dutch Designers and highly valued for her down-to-earth and hybrid design approach with a focus on detail, function and clarity.
As a Dutch designer, she's using pure geometric forms like Gerrit Rietveld and all the artists rom De Stijl.
I.H (NL, 1966) studied product design in the Netherlands (School of the Arts Arnhem) and graduated with an MA in Furniture design from the Royal College of Art in London in 1995 before setting up her studio INEKEHANS / ARNHEM in The Netherlands in 1998.