The following text is based on an interview I had with designer Adriaan Mellegers and the artist Emmeline de Mooij about the book "Art in Therapy", design, art and the relationship between those two fields.
Adriaan Mellegers
Emmeline de Mooij
Yelske Luit
So how did you start making this book? I assume Centraal Museum Utrecht wanted a book after Emmeline's work?
They wanted a book because I did a series of performances commissioned by them, and of course nothing physical remained after this piece. So we really wanted a good record of this work.
Was it immediately clear that Adriaan was going to design it?
Yes, I think I immediately proposed that. I could decide everything myself; who made the book, who filmed etc.
     Edwin Jacobs, the former director of the museum, really trusted us with this project, it was like a warm bath.
  But I think that's one of the positive sides of working for yourself or with friends. When you have a client, they can sometimes differ in their vision or ideas.
That can be interesting, but it can also go badly.
So where do you start, when you have this open slate?
   The project had a quite clear structure, and it was quickly clear that we wanted to have the text from the five performances in two languages [Dutch and English]. So it was a lot of text.
         We also had some film stills and portraits from the performance.
     So those are your "ingredients", your content, and then you start thinking about what kind of book you want. That process is partly conceptual and partly intuitive.
I thought it would be cool if it had a monumental size, quite big, because it would refer to a patient dossier.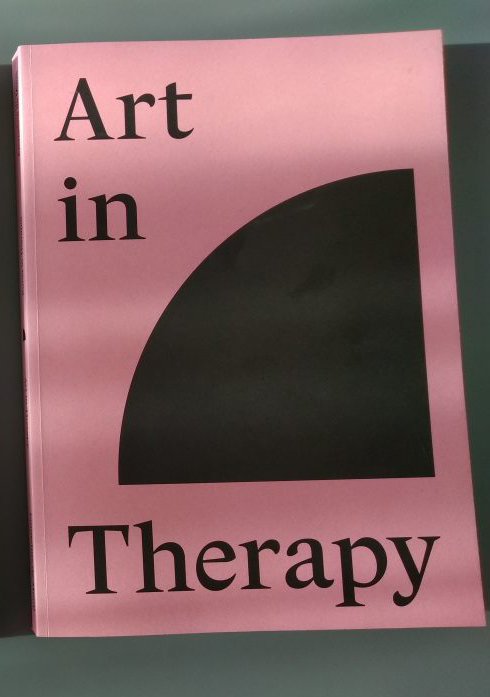 I chose to represent the text very clear. The two languages have a different font, but they come from the same font family, Trivia.
I made the letters bigger, to convey some intimacy.
And while he thinks of all this stuff, how much have you [Emmeline] been involved? Do you give feedback after the decision is made, or do you make it together?
I left it up to him, but he showed it a lot during the progress. I was very happy you could think of those things, like that the photos should be on a different paper.
But we still talked about it a lot. There was hardly anything that I didn't like.
Did it ever happen that you saw a design for your work and you felt like it didn't look right, or didn't represent your work? Or does it almost become a work in itself?
Yes it does happen, but it's usually something small.
I think you're quite flexible.
I think it's important to let go when you involve someone else. That you don't control the other person, give them freedom.
So you also give some autonomy to the designer?
Yes. But it still has to communicate what you initially wanted. It can't suddenly go in a different direction, so I have to be clear about what the story is.
So that is the risk you take by doing that. You can give them freedom, but you can't just let it happen. 
I can imagine it's very different with a client.
Very much so. When it's an institutional client, they have a more clear vision or policy of how they want to communicate. You always have to get in a discussion if your idea or vision could happen.
It's also often a lot more political, because there are other interests and parties involved.
So you could say that in the relationship between art and design, when you work for an artist the story is up to the artist, but how it is communicated is more up to the designer. However when you work with a client, this how is also controlled by the client?
It's possible in both options, it has a lot to do with how you work as a designer. I want people to work with me because they think I make good works, not just because I provide a service.
When you work with an institutional client, you want them to have the same attitude. But there are a lot of interests at play, so sometimes the collaboration goes smoothly, and other times it doesn't. That's part of it. 
It can both be fun though, and I wouldn't want to only work for artist, because those processes can last a very long time.
And I like the challenge of working for an institution, and that the end product is seen by a lot of people.
So working with both, the variety is pleasant.
Emmeline de Mooij: Art in Therapy. design by Adriaan Mellegers, Rietveld library number: 708.4 the 1