[cover] "Two Squares" / Dedication page / [page.4], from Lissitzky's "Two Squares"
Dit verhaal (1920) behoort tot de proun-serie van lissitzky.
Ik vind het een van zijn beste werken. Simpel en toch heel sterk.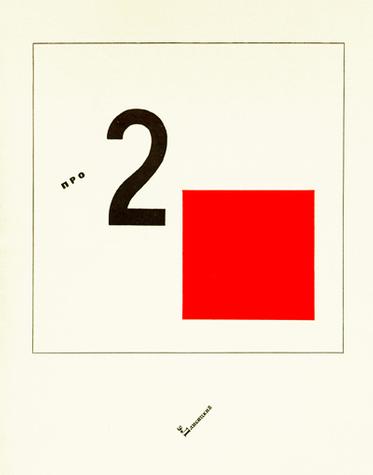 In eerste instantie wist ik helemaal niet dat dit een kaft van een boek was. Een kinderboek nog wel. Over een rood en een zwart vierkant die de wereld gaan redden met behulp van een cirkel. Ze bundelen hun krachten samen om zo de chaos te vernietigen en een nieuwe orde te vestigen.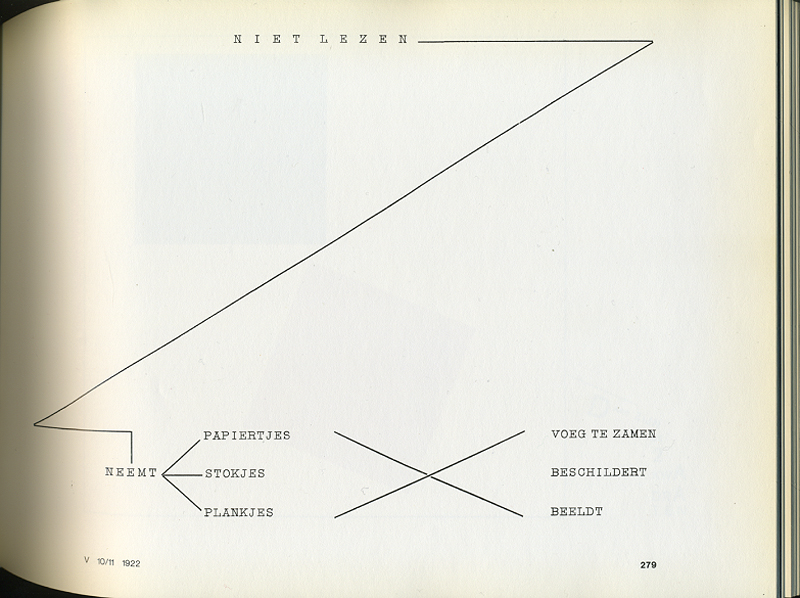 [page.4] Don't read, get paper, rods, blocks, set them out, paint them, build.
De tekst op pagina 4 maakt duidelijk dat Lissitzky met zijn verhaal kinderen en volwassenen lezers aanspoorde tot activiteit. Zijn intentie was het verhaal tot leven te laten komen in een schouwspel. Je zou het dan ook niet alleen op een (typo)grafisch twee dimensionele kunnen zien, maar ook op een architecturale drie dimensionele manier kunnen bekijken.
[page.5] Here are the two squares / [page.6] They fly on to the Earth from far away and / [page.7] And see a black storm.
[page.8] Crash – and everything flies apart / [page.9] And on the black was established Red Clearly / [page.10] This is the end – let's go on.
'The words move within the fields of force of the figures as they act: these are squares', zoals hij zelf zegt. De plaatsing van de woorden en het gebruik van de letters vertegenwoordigde een totaal nieuwe benadering. Het verhaal wordt dan ook over het algemeen aanvaard als een van de eerste voorbeelden van de Nieuwe Typografie.
Het werk werd voor het eerst gepubliceerd in 1922 en bestaat uit 10 pagina's. Lissitzky maakte zelfs een speciale editie voor ons beroemde vaderlandse tijdschrift De Stijl ( in "De Stijl" 5e Jaargang 10/11). Enkele uitgaven hiervan zijn nog op te vragen bij het magazijn van de openbare bibliotheek (De Stijl : [maandblad voor de beeldende vakken], maar de editie waar ik het over heb is daar helaas niet meer in de collectie. Wel de volledige facsimile herdruk met het gehele in het Nederlands vertaalde "van tWee kWAdrAten in 6 konstrukties" in deel II. Ook kun je de volledige originele versie nog vinden in het boek "El Lissitzky", wat door zijn vrouw Sophie Lissitzky-Küppers is geschreven.
De Stijl facsimile (red. Theo van Doesburg ; ed. by Ad Petersen1968) [page 5,6,7,8,9, 10+page 4]
El Lissitzky by Sophie Lissitzky-Küppers [top 3 pages, original print 22 x 28 cm]