As a student of arts and design and, at the moment, about to reach the end of the first year – I found myself trying to understand my progress and development process as a student- considering all the different situations and stages I have been through this last year in relation to the school.
     Characterised by strong rhythm and diversity, the basic year forced me to be extremely versatile.
     Creativity and quick response led me to places where I had never been before and although I was very confused in the beginning, I can now understand the interconnection of all the proposals from the school and how my reaction to them should be constantly evaluated in order to keep developing as a student.
     As so, confrontation becomes incredibly important to get to know myself and, under pressure, the behavior of my body had many times to overcome the speed of thought, which means, that it was necessary to act without thinking innumerable times – which resulted in a completely different way of perception on my own work. This practice, of course, has greatly influenced my method of creation and helps when it comes to try to have an overall view on the last period of my life- which I will be doing meanwhile writing this essay.
    From this very small and summarised description of the last months as a student of an art academy I ask you to take some words that will help you to follow my thoughts throughout the essay:
Rhythm;

Diversity;

Versatile;

Creativity;

Interconnection;

Confrontation;

Development;

Behaviour of the body;

Method.
These words, for me, interrelate the three points I want to focus and connect: Art academies; me as a student and school furniture design. But lets start from the very beginning.
     Art as an educational practice emerged in the 16th century in Italy, and has since evolved in many directions. Artistic teaching has been constantly changing and responsible for the emergence and development of multiple movements and new artistic practices that grow from the urge of the artists and and the society. As so, methods used in art schools have been transformed side by side with the whole society and its needs. 
     Throughout all these years many academies have been important for the development of various names that have become part of world history. Thus, certainly, the school where each one of them studied, had a great impact in their own artistic practice. Aiming for the same to happen to me, when I decided to study arts, I promised myself that I would try to find a place that would truly satisfy my needs and where the thought that moves the school would meet my own way of thinking.
     The academies have become places where learning is fundamental but, over time, the way the disciplines are taught to the students is in constant transformation- what results in a huge variation of methods used in artistic teaching.
Therefore, my task of finding the place where I wanted to develop my practice as a potential artist had to be even more cautious and I had to get to know as much as I could about the schools to which I could apply without studying there.
     After much research, I ended up leaving my home country, Portugal, in search of something that seemed appropriate to me and I ended up enrolling in the Gerrit Rietveld Academie in search of a more adapted teaching to my ideas and to my way of producing.
     Surrounded by different ways of thinking and materializing ideas, I was immediately enthusiastic about the reality that surrounded me. The contemporaneity and versatility of the teaching of each one of the teachers has proven the ideas that I brought with me from Portugal. It is very important to have the school as a safe space where all ideas are respected; Where the concept is valued and experimentation has no limits. The unlimited access to the workshops gives creativity to the students and the consideration of the creation process by the teachers and colleagues makes me believe in several methodologies that open up a huge range of possibilities to each project that I develop.
     While considering all this I realized how similar the school I was studying was to one of the most important schools in the art and design history which I always had as a great example of education techniques: the Bauhaus.So there has grown an even greater interest for this fascinating school. Now, living even closer to where everything happened geographically, I have managed to get more and more acquainted with its history.
     After some research, I have come to understand that the way the Bauhaus developed and educated its students was more than a teaching method. It is perhaps a method of production and creation that is directly related to one's own method of living.
     Honestly, I find it striking how schools like the one I attend and the Bauhaus consider the curriculum of the degrees, and as time goes on we have more and more evidences of the positive influence that this way of teaching has- somewhat minimal, where "less" is believed to enable a much interesting creation. I would like you to take into account the last sentence- "Less is believed to enable a very interesting creation"
     While researching about the schools of art education and my perception of them. I began to notice a very important element: school furniture. That both the Bauhaus and the Gerrit Rietveld Academie plays a very important role – maybe because of its relationship with design practices. Considering those academies as a space where an incredible relationship develops daily: between the building and its interior; the objects; and  the people that share this space of discovery and experimentation.
     The interaction turns out to be very relevant in the day-to-day of those who frequent this place. The distribution / organization of space among all those who occupy it is extremely relevant and certainly influences all activities that take place in the school environment, from pedagogical to playful.
     Historically, there are several objects that are part of the artistic school environment and that, thanks to its constant presence, a certain language between human being and object is developed. As I wandered through the corridors of my school, I realised that each student has its own body language, just like every person and that we all physically get involved with what surrounds us.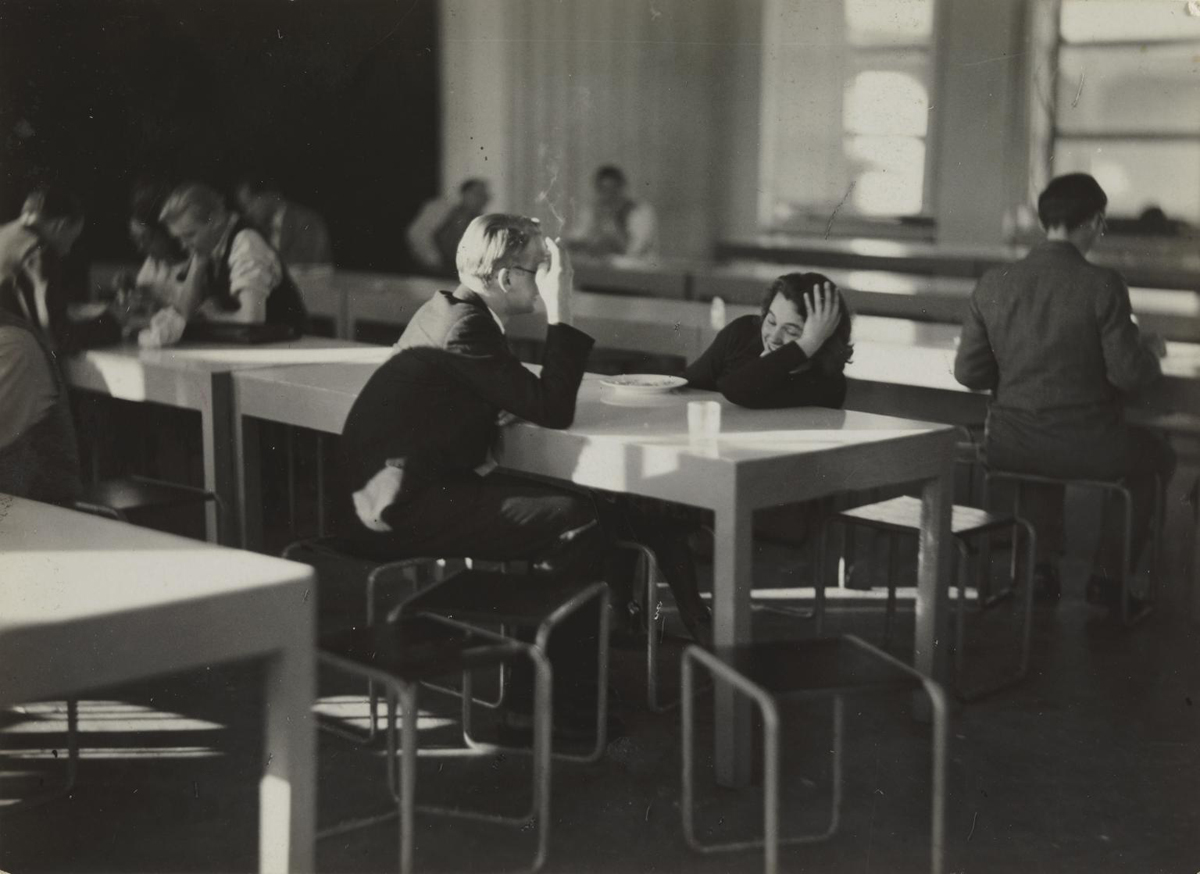 Cafeteria after lunch, Bauhaus, Dessau 1930-2, photo: Iwao Yamawaki, Tate UK
     The same happens in relation to pieces of furniture. Without realizing it, the chairs where we sit become part of our position while we are seated, or an easel can become part of our body while we paint – its triangular shape where the frame is supported, often serves as support for the painter. I myself have noticed that many times I paint I find moving in different angles thanks to the support given by the easel. And, together (me and the easel), support the fluid movements of my arm that moves the brush.
     Due to the introduction of this new theme – school furniture design. It is impossible not to go back to the Bauhaus, a school where numerous pieces of furniture were developed and included in the school itself. When I went to the exhibition "Netherlands Bauhaus – pioneers of a new world" at the Museum Boijmans Van Beuningen in Rotterdam, I found several photographs with many of the most famous pieces by Bauhaus students, such as Marcel Breuer's stool but, and I realized how furniture captures my attention by the way it is designed and it interacts with the space. But, throughout the exhibition, there was one piece that captured my attention, the Ulm stool by Max Bill.
"Function means the relation of one thing to another. (…) When we speak about fulfilling a function, we are talking about producing something to fulfill a need. ";

"By function I therefore understand a relation, for example the relation between material and form." – Said Max Bill.
     Having the designer's words as a starting point I would like to take advantage of the functionality of his piece – which fascinates me – and directly compare it to my relationship with the school that I attend because, incredibly, while appreciating the stool in the museum Boijmans Van Beuningen I felt that, somehow, its structure was very close to mine, as a student of the Gerrit Rietveld Academie.
     Physical characteristics of the piece:
– The stool is made up of 4 pieces that when fitted create a volume of varied functionality. The joint of the different parts is extremely well design;
– The simplicity of the geometry allows the interconnection of all parts and a joint strong enough to handle a weight;
– The stool has 3 almost identical parts that form the seat and a tube that allows support and transport.
     In a metaphorical way, I associate this description with my goals as a student. Every day I try to find solutions for my assignments through maximum simplicity; I try to be as organised as possible so I do not get lost in my own thoughts and, to ensure that each of these thoughts results in something material. In order to develop my production process. In each of the projects that I do in school I seek the interconnection with the others projects- always trying to notice the small things where they might be similar and, therefore, I have discovered many personal characteristics – mainly in relation to the way I work and how I shape my thinking. By considering and evaluating my own works I manage to find myself a little bit more every day.
     Functionality of the piece:
One of the strongest features of the Ulm stool is its versatility in functionality.
The joining of four simple pieces results in a simple object that can be used as a bench, as a desk and as a shelf and can still be transported very easily.
     In relation to my own experience this versatility can be found in a lot of aspects. The Gerrit Rietveld Academie is a place where its diversity promotes an open space where a lot is possible. Even if the departments work in separate ways there are links in between that make the school work as one and everyone is free to participate and to take the best out of everything that the school offers, from people to workshops.
From such freedom I experienced a lot of different results from each student, including myself.  It is this versatility that I try to find in my posture as a student because I believe that it will certainly result in a practicality and ability to solve any problem that I will increase my creativity and for sure be one of the most important lessons I will take with me from my years as an art student.
     At this point, where I can relate the characteristics of a design piece with my own performance as a student. I consider my research finished.
After all and by becoming better acquainted with the reality of art academies and their direct relationship with what is produced in them. I believe that writing this essay resulted in a very personal development – It led me to conclusions about how I interact with the space around me and how this influences my results and it also made me pay more attention to the results themselves so that, later, perhaps, I might be able to assume that I know myself.