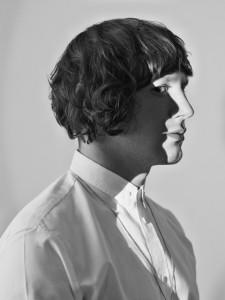 JOFF is the alter ego / the 'brand' of Joffrey Moolhuizen, created for his graduation collection in 2001 when he graduated from the Rietveld Academie in Amsterdam. In 2002 JOFF also graduated from the fashion institute in Arhnem. But instead of working in the conventional fashion designer way, making new collections every season, he wanted to establish his work through the art circuit. The designer who grew up in an extremely religious Jehovah's Witness family, left for art school, where he "found himself" being forced to break with his family. His work originally began as a direct response to the restrictive culture he was raised in, with pieces hiding as much skin as possible (dramatically high collars and uncomfortable cuts are part of the appeal). His work can be seen as androgynous. The designer works on the fine line between femininity and masculinity. As he grew up as a designer, he became more self centered and focused his clothing designs on himself maybe even to the extreme. JOFF's famous collection ofoffjoff is on the edge of narcissism. Every design is made precisely to his own measurements. So also the models should be approximately his size and build. In theory the work is meant for everybody (though you should be his size) and all the designs are totally unisex, but only avaible in one size, JOFFSIZE.
JOFF is a fashion designer who is multidisciplinary and tries to work in more than one approach to fashion by putting it in the art scene as performance, making books. He tries to combine more mediums to approach fashion, which I think is because of his Rietveld experience. About the Ofoffjoff collection JOFF made a book together with Julia Born (also studied at the Rietveld academie) who is a graphic designer. The book is called Ofoffjoff- one to one. Quoting mrs. Mo Veld who is a fashioncritic and fashion theory teacher at the Rietveld academie  "The  book is more than just the work of JOFF on paper, the classic medium to let fashion transcend beyond the original object of desire, like for instance a lookbook as it is called in fashion. OFOFFJOFF- one to one is a fashion object in itself giving the audience an alternative to discover in detail as well as relate to JOFF"S design, his style, his image, his size, one to one. JOFF and you. Much like early pop magazines featured life size "starschnitt" images of teenage icon. In this publication the designer again becomes the measure of all."
The book earned two best designed books listings in 2007, by the best designed books foundation presented at the Stedelijk museum Amsterdam, as well as by the most beautiful Swiss books 2007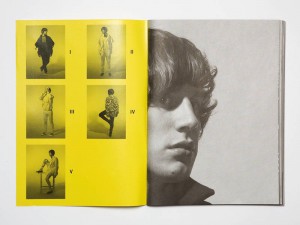 JOFF is also the artistic director/ curator of the Arhnem fashion biennale. Last year he tried to discuss the relationship between fashion and contemporary art in this city based exhibition. He didn't want to make it in to a commercial fashion show because there are already to many of those. He sees fashion as the art that's closest to the body, but tries to get more out of the biennale than only showing nice looking skirts, pants etc. he wants you to get the feeling of what fashion is in his eyes. His concept was a search to the identity and the phenomenon of fashion and also a declaration of love to fashion. He opened the biennale with a love letter to Amber which was also the title of the biennale (AMB first three characters of Amber stand for Arhnem Mode Biennale) which said:  "I'm addicted to your deception and temptation and will never be able to live without this on and off relation."
The goal of JOFF is to show fashion in all it's manifestations, it goes beyond clothing. He also wants to show that your hairstyle and the car you choose is part of fashion, fashion is everywhere in daily life. Also photographs, objects, texts and what not will be shown with the goal to show the social-cultural function of clothing. But also outside of the exhibition space there was a lot to see not just the beautiful fashion stores but also the best bakery and the best views in town. This is how he wants to show that fashion is everywhere around us.
I think he has a really rich Rietveld background that is visible in his work and the way he directs the AMB. Already by not trying to fit in in the fashion world but trying to put his work in the art circuit feels really Rietveld to me. Also that he tries to combine elements out of other working fields, not just making dresses but his fashion serves a different higher goal. He uses his designs to do performances, installations and publications and by doing this he goes a step further than most fashion designers
Also his work is maybe more conceptual than most fashion designers with his Ofoffjoff project and also using his religious  conservative background and not only to make beautiful looking clothes but clothes with a story
This conclusion is based on available facts. I tried to e-mail Mr JOFF but never got an answer.