Organic but still fixed, Simple but far from boring. Soft curved and sharp edges. The not expected material for this fragile form. Not as visible as it should be, standing low and unfortunately not visible from different sides. You would not place this object directly in the design section of the Stedelijk Museum but after research I could surely place it better in its context. After telling people which object I chose a lot of them didn't remember the piece. A pity because it's beautiful but also logical because of his hidden position. I couldn't say directly why I was touched by this object but after some thinking I noticed it refers to my interest for curved forms, layers, shadows, inside and outside and the material clay.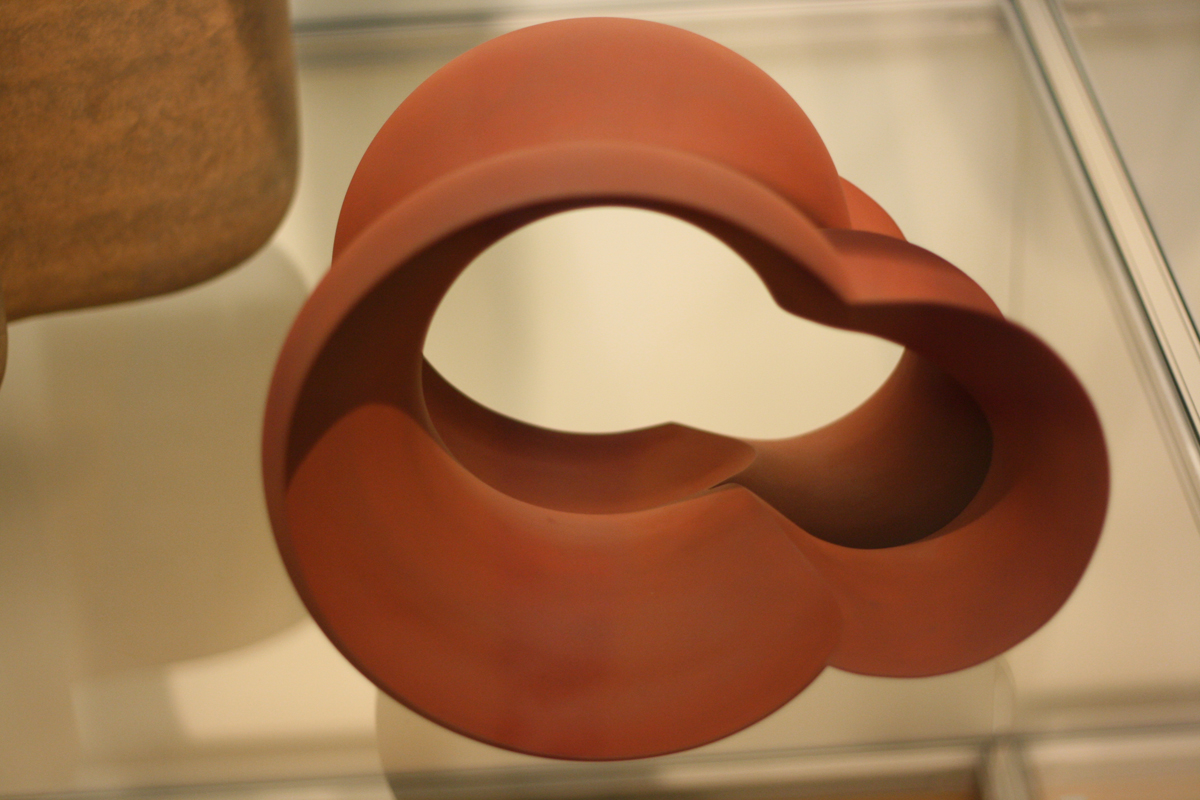 When I started my research. I directly found out that Wouter Dam was a student at the Gerrit Rietveld from 1975 till 1980 what made me directly more motivated and interested for this research. Accompanied and guided by Jan van der Vaart, an influential ceramist for the Netherlands  famous for the new design of the famous tulip vase., Wouter Dam explored shape and volume which he would continue during his career. Unfortunately there is not much more written about this time in the Rietveld Academy. From 1985 onward he was able to make enough money to live from selling his work, allowing him to spend more time in perfecting his technique. His early work gives an impression what his later work will look like. After his first phase of still recognizable vases, the vases started more breaking the symmetry but still suggest a latent ability to contain. In phases of 5 years you see a clearly development, every step is logical coming out of the one before.
Wouter Dam concentrate at the space the works take over. He doesn't decorate his objects but focus on the form of his ceramics. He begins his abstracts sculptures on the wheel, although you don't see this in the first glance. First he makes 10 to 12 cylinders which he then cuts open and join together in another way. Sometimes it's a technical challenge, to make sure that it is perfect but still an example of hand-crafted workmanship. It is hard to stay close to your original creative idea and produce it. Sometimes he put more time in making the correct supports to make it than the actual sculpture itself, but critical for good results. Another technical challenge is finding the perfect stage of hardness to assemble the sculpture from the clay rings.
The colors of his works are soft and sensual chosen to enhance the shape. The colors are slightly added in different layers to find the perfect suiting color for the form and do the most for the light and shade. In his previous periods he uses only one color for his forms but now he sometimes add a little bit of another color too but only support the already existing lines.
What was also interesting for me were the different connections and impressions people made after seeing his work. Some describe it as a forms inflated by air like a sail filled with wind who billow and swell. Others refer it to human forms, feminine forms, popped cocoons or wooden boats crashing in the waves. There isn't a direct mention. He strives for a vague memory of a real thing, just a hint. There has to be enough room for the viewer to let his imagination run free. That is for me a good reason to explain why this object fits the design section of the Stedelijk Museum. I can see this object refer a vague memory of vases. Vases of his older work but also vases of other artists. Modern times give you more the opportunity to think bigger and extremer than round vases. By putting this object in the design section you give a hint of the period we live in.
His work is mainly bought by collectors and museums sold in private art galleries for all over the world and he is notable popular in Tokyo. I can't wait for his next steps in progress they don't look big but for me it is an interesting thing. So I hope to visit on of his galleries soon.