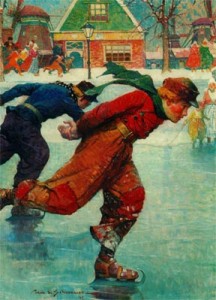 I haven't been able to make a connection between their world and mine. Their world seems to be so far away from mine.
They all look the same; they eat the same, read the same, do the same. Are they even different people? The only way to preserve your world is to close it off from everything outside. Then you can continue in your eternal circle.
I know one thing: you can't end something entirely. Influences will be there anyway; perhaps drop by drop, but drops are water too. Like water coming through a small hole in the dyke, drop by drop it fills the land with water and finally floods it untill there's nothing left.
It's a good thing that Hans Brinker put his finger in the dyke.