John Baldessari
John Baldessari is  known for his dot pictures, pictures in which a dot is used to shift the meaning of the appropriated (for example from a magazine or newspaper) material. This is how he works in general, appropriating existing forms, like pages from magazines, scenes from famous movies, pictures that people take at famous scenery, that mostly relate to mass media or mass culture, then using minimal gestures to change the meaning of this material. One could say his art is visceral since there is no space for hands on work but only of plan executed.
John Baldessari belongs to a stream of artists that would rise to fame in the seventies, forming the last somewhat coherent group of artist that could be called a movement. This movement is designated the Pictures Generation and group artists like Jack Goldstein, Sherrie Levine, Richard Prince, David Salle, Robert Longo, Louise Lawler, Barbara Kruger, Cindy Sherman. All of these group up in America in a time were tv and mass media were omnipresent, and there art praxis is a reflection of this. Baldessari formed an central figure in this group as was the teacher of a big part of the artists to would grow up and become representatives of this group. Also was he one of the first to gain attention with a type of art that could not find in the categories of former times: Minimal Art, Conceptual Art and Institutional Critique.
Here are some links to a few of his movies:
John Baldessari teaching alphabet to a plant
John Baldessari singing the conceptual art manifesto


Christophe Coppens
I have chosen to work with Christopher Coppens, who is an Belgian accessory designer originally trained as an Theater director now to be Artist.
What's interesting regarding Christope in the exhibition is that he works in an area between fashion and art, as he puts it himself, though he recently completely stopped his fashion career to make art, though his fashion brand was very successful including clients as Rihanna, the queen of Belgium and so on.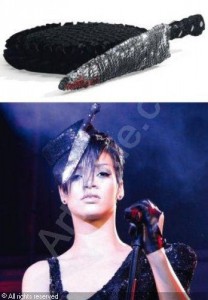 For me it's meaningless to place his work in any of the boxes, he sure does walk on the line  for instance his hats morphs into human faces, handbags that are shaped like animals, a swan and a lamb to mention a few. Which quickly makes you start thinking in the veins of an artwork.
When he chose to become an artist full time, he shut down his fashion firm and left it in bankruptcy, i think it was to be taken serious as an artist and not to be viewed "just" as a multidisciplinary craftsman,
It seems to me that CC is a material based craftsman first of all, with a vision for different materials, accessory designer or artist, the title to me does not seem to matter much, maybe it was important in CC steps towards feeling comfortable with his creations.
He felt that the fashion world he surrounded himself with had an unfriendly sphere towards the more artsy, folks were ready to spend money buying from Christophe Coppens: The Mad Hatter's designs but only the products, the stories and the processes behind each piece did not matter(im sure it did to some).
The first exhibition from Coppens transition from designer to artist.
For the show Coppens destructed by different means most of his belongings, suits, furniture, credit cards and business files, a kind of ritual, which he then turned into different sculptures.
The exhibition consisted of sculptures which Coppens refers to as Mountains, made from ceramics primarily. A ongoing tendency in these pieces is that it seems that the ceramic material is being eaten by fabric, swallowing the shapes. A visual reflection upon his feelings around a conflict he seems to be caught in.
 It is a collection of inanimate objects, s stuffed animals or toys, that are viewed through the windows of a small house. A shop beside the house sells miniature versions of the objects (a method deployed to great profit by artists including Takashi Murakami).
No reference was an installation by CC, in which he questioned the origin of his profession as a accesories designer, going back to point zero without any references, hence the title. The installation consisted of 33 haute couture accesories, that were presented as work in process and during the opening hours he would work on the pieces, invite people to join(if you were handy enough) and invited the public backstage of the "hectic" fashion world.
Christophe and John
We now turn to the final question, does it make any sense to put Christophe and John together in one room, under the banner of the Abject. This question should be answered negatively, and for many reasons. First of all does John Baldessari's work not fit to the theme of the abject because his work doesn't concern the abject, and if his works, taken out of context seems to deal with the abject in a superficial manner it is solely because he deals with the abject how it is represented in mass media. Second of all does Christophe's work not fit the abject because the term the abject refers to something quite deep, and following the theories from which his notion stems, quite fundamental. To deal with this topic in a design manner changes it so much that we cannot speak of the abject any more in its original sense, it becomes funny, witty and superficial, it is just used as a tactic of Christophe Coppens to give his work some extra artificial layering that makes it appear as "art".
Lastly to combine the two in one exhibition is quite senseless, they have no relation whatsoever: different background, different views, different approaches, different topics. We can sum it up by saying that the noon of the artists relate to the abject, nor to each other.