FAUX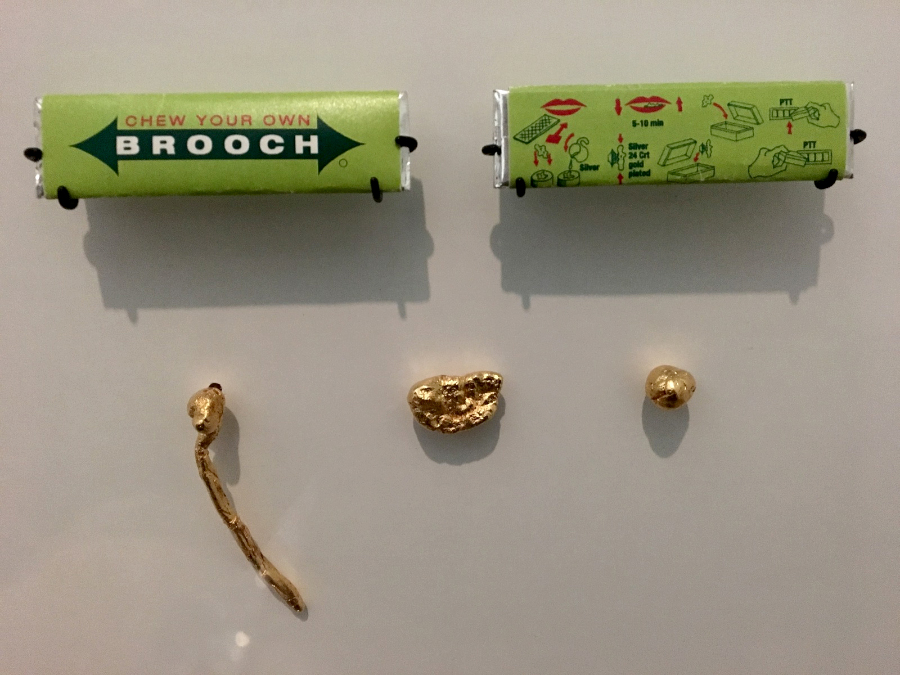 Chew your own brooch • Ted Noten [1998]
who's Ted Noten?
He is a Dutch artist who studied at the Rietveld Academy and at the Academy for Applied Arts. He works with themes of the unusual and familiar. The designer plays with our symbolic values and perception.
what's the piece about?
Noten hands you a chewing kit, you chew the gum and send it back to him. In return he'll give you a replica of your chewed creation but this time as a wearable brooch made out of silver or gold. Anyone can become a jewellery designer.
how's that faux?
It is triggering to see the combination of the famous green gum pack next to the golden jewellery pieces when you encounter the work in the museum. Questions arise and curiosity grows. Then you realize the piece was created from saliva and teeth, and the gum pack is a replica of the real "doublemint gum" brand.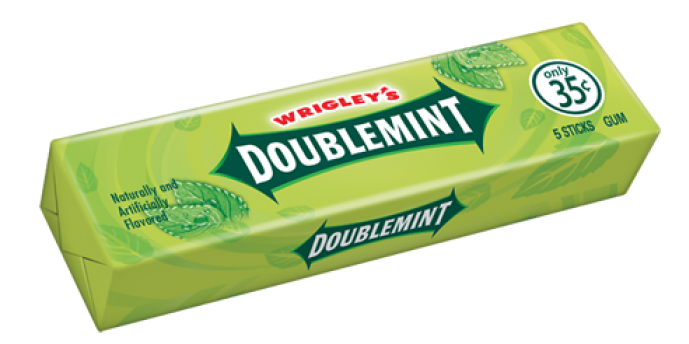 Wrigley's Doublemint Gum
 A treasured replica
Ted Noten copies the recognizable design of the pack to attract the viewer's eye and make the subject clear as most of us know this brand. As an audience you are appealed by what you think it is, but it actually isn't. He fools us, trying to get our attention, and succeeds. However he adds his own instructions and name, and through a simple gum pack, sets the rules.
Also, the final pieces shown in the exhibition are the golden replica, which aren't what the chewers created. It is a copy, even though it is more valuable than the original, it is still a copy, an imitation.
"It is said that imitation is the sincerest form of flattery, but it sometimes follows function (…)" (Het Nieuwe Instituut booklet)
In this case, no one would have worn a sticky piece of gum on themselves, but many would adore wearing a golden reproduction of what came out of their mouths (and still proudly say they made it). The function of the final piece is the reason why they accept the falseness of it.
There is a clear link between Chew your own brooch by Ted Noten and The Transylvania Archive by artists Marta Volkova and Slava Shevelenko (https://designblog.rietveldacademie.nl/wp-content/uploads/2017/02/VanilleOugen_screenshot.jpg). These three artists are trickery masters and no one blames them for it. Both of the pieces question the capacity of viewers to see through the surface and discern its core. Imitation is used plentifully and effectively but it isn't perceived as immoral. As a matter of fact, imitation is the powerful characteristic that elevates them.
In conclusion, the copy of the gum pack served the function to explain the project visually, and the golden jewellery which is a reproduction of the actual creation serves the function to be functional.