Ocean Cleaning
'A group exhibition that explores one of today's most relevant topics: social design. The twenty-six designers featured in the show 'dream aloud' about a better world, and try to figure out ways to solve today's complex societal issues. Venturing beyond aesthetic design, these designers show us ideas and technologies that can change the world.'
A steadily growing annoyance takes hold of me as I wander through the exhibition. Most projects at the Dream out Loud exhibition seem to me to be primarily about aesthetics and do not really concern themselves with providing solutions for today's social and environmental issues at all. Quite an amount of goodwill is required to even see them as 'social design'.
Projects that do engage with socially relevant subjects tend to focus on symbolic solutions that should rather be seen as ways to raise awareness for a problem rather than to actually solve it. From a practical point of view these solutions are most of the time completely unrealistic, or solve such a marginal part of the problem they deal with that their actual impact can be disregarded. Of course the designers are mostly aware of this. It is even stated on the website of the Stedelijk Museum.
But nonetheless, it leaves me thinking that the engagement with societal issues serves the promotion of the design and the designer rather than the other way around.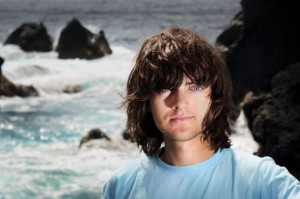 One project breaks the rule. Ocean Cleanup, initiated by the Dutch student Boyan Slat, of whom I included a picture. When still in high school he devised a plan to clear all of the worlds' oceans of the plastic that it has been polluted with in the past decades. He wants to use the ocean's own natural currents to filter all the plastic out, eliminating the need for a costly moving vessel to drag the net. Although the feasibility of the project is not unanimously agreed upon, there is a good chance that it can, and will, be executed.
Ocean Cleanup provides a very real solution. In this it is different from all the other projects at the exhibition, and accordingly, it remains unmentioned in most [x] reviews [x] I've read [x]. A disinterest in the project can also be felt in how the Stedelijk mentions it on their own website as a 'giant vacuum cleaner', which is simply not what it is. One could argue that it is not even design. Boyan Slat is an engineer. I bet he has probably never even seen an art school or a gallery from the inside. Decisions considering the aesthetics of his project do not seem to even remotely interest him. Save for the purpose of promotion, of course, which is crucial for the funding of his plan, and probably also the sole reason he submitted his project to the exhibition in the first place.
What Slat is doing is, bluntly stated, vastly more important than design could ever be. Planting roses in the streets of Amsterdam to 'make the city a little greener' or making dresses using wax simply doesn't compare to actually cleaning the entire ocean. It's not even on the same planet. In a hundred years, when the whole exhibition and its content is long forgotten, the Stedelijk might not even be there anymore by then, his work will still be visible in the clearness of the water. And the beauty is that Boyan Slat himself probably doesn't even care about being remembered, or how his project relates to the world of design. He just wants to clean the ocean.
Excessive Dreaming
I'm watching a TED Talk by Boyan Slat. As I just told you, he's a pretty great guy. You know those motivational quotes you sometimes see on Facebook? Or those posters you sometimes see on Central Station? He's living them.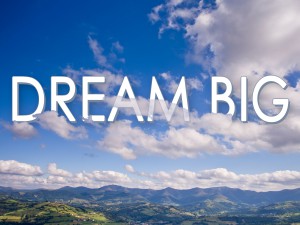 He's totally got it. The entire ocean. Quite literally the biggest thing on Earth.
Thinking of numerous impressive feats Boyan Slat has already accomplished, the prestigious institutes and people he has worked together with, the magazines and newspaper articles he has been in, I cannot help myself but to feel a slight sense of embarrassment. What am I doing here, sitting in my bed with my laptop, trying to get started on a relatively simple writing assignment, half-concentrated, slacking off from time to time into the wonderful world of distraction that is the internet, when there are so many great problems to be solved? I'm roughly in the most comfortable position imaginable if you think about it. I'm a white middle class guy from a wealthy nation, with loving parents, good education, a fully functional body and everything else the majority of people on this planet do not have according to statistics. My current lack of initiative stands absolutely unexcused.
Luckily, help is on the way. The video is flanked by a series of suggested video's on how to learn any language in less than six months, how sitting down can kill you, how to know your life purpose in under five minutes, how to become a 'memory master', whatever that may be, how to become a millionaire in three years, how to retire by the age of twenty, and so on.
It seems all the wisdom I need to succeed is right in front of me. If Boyan Slat can do it, so can I. He is only one year older than me. Really, what am I doing here in my bed with my laptop? No more time to waste! There are more than enough grand issues to be taken on, there has to be at least one for me to solve. Can't be too hard. I only have to get myself together, to take control, and to get up and do it! I can already feel the energy flowing through my body. This is going to be great. I'm going to be great. Nothing can stop me anymore!
So I close my laptop, forcefully throw back my blankets, step out of my bed, do some more stretches because my legs are asleep, realize I actually really have to finish this assignment, and sit back down again.
Everyday life does not seem to let big dreams get in its way.