Willem Sandberg (1897-1984) was the man who made the Stedelijk Museum in Amsterdam what it is today. During his time as director the Stedelijk Museum became one of the most important museums of Modern Art. But not everyone noticed that right away. Sandberg got a lot of criticism during his years as a director. Besides director he is also a typographer, designer and many more things. At the moment a few of his works are shown in the Stedelijk Museum. For example his series of booklets called "Experimenta Typographica". Later in this blog I will explain more about this piece, but in order to understand that the life of Sandberg must first be explained.
Sandberg was born in Amersfoort, the Netherlands in 1897. He grew up in a wealthy family and his dad wanted him to study law. Sandberg however did not, and so he went to an art academy, the Rijksacademie in Amsterdam. He only studied there for a year because he didn't find the teachers very inspiring. After this he did several things like visiting different countries, getting married, getting a daughter, taking a course Marxism, getting divorced, studying psychology and getting married again (to someone else). But his most important experiences during those years were the days he worked at a pressroom in Herrliberg. After this he became a graphic designer when he got back in Amsterdam in 1928. In 1936 he got a job as a deputy director of the Stedelijk Museum and started to design posters and catalogues for it.
But then the Second World War came. It was a difficult time for all and so there wasn't much happening at the museum. Sandberg got involved in several illegal activities such as making fake identity cards. With some help he was able to make cards that looked like they were real. However, with the documents of the registration service it was possible to discover that the cards were in fact fake. A group of artists, including Sandberg, decided to set the register on fire to avoid this. This happened on the 27 of March in 1943. They succeeded to set the place on fire but all the artists were caught en killed later. Except for Sandberg, who was told in time by his wife that the Nazis were coming to search their house for him. Sandberg had to go into hiding for the rest of the wartime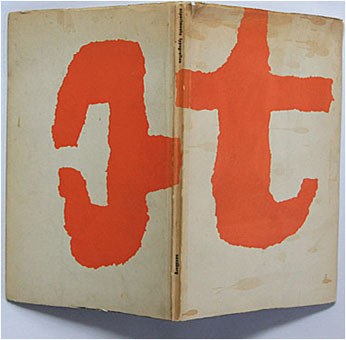 .
These years were very difficult for him. He had lost all his friends, he was isolated, he had nothing to do and he had to be careful at all times. To prevent himself from going crazy he started to make booklets. In these booklets were illustrations, notes and thoughts. He wrote sentences down that inspired him. It was the only thing that could help him getting through these dark times. Making these booklets isn't as easy as it seams. Because of the war he had almost no materials to work with. He had to be very creative to keep on producing so he used everything he could get his hands on. He used materials like old newspapers and cardboard, but also cigarette papers. Around this time he started to rip papers in order to create letters, this is a technique he also used in his later work, like the catalogues for the Stedelijk Museum.
He called the series booklets Experimenta Typographica of which some pages are now shown in the Stedelijk Museum. Unfortunately they're showed behind glass, so there is no opportunity to flip through them. This is reasonable since the booklets are very valuable but it creates a distance between the work and the audience. So it becomes harder for the audience to get the feeling of these booklets. Therefore I advice you: go to the library and ask for the reproduction of the booklets. Only then you're able to get inspired by it yourself. It's beautiful how he creates so much with so little materials and a lot of time. This body of work explains why Willem Sandberg is such a remarkable figure. The work shows his creativity and attitude. It sets an example for every artist and shows how to create much with little in difficult times.