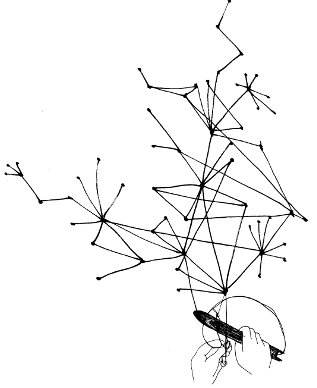 Netmenders are immediately connected to the concept of folklore.
Now we do it industrially, there is no need of preserving this kind of
techniques in order to have sea-nets. Nowadays it's more convenient to
buy a new one than repair a broken one.
For this reason it's said that technologies are destroying folklore.
It's like saying that we shouldn't live the present
because it leads too far from the past.
Folklore is (in one of the numerous definitions) a word to define
that part of the culture that deals with popular more or less spontaneous
habits and beliefs.
The word was introduced when there was still a strong relationship
with folks, villages etc.
Now that society has changed we find it difficult to apply the term folklore
to contemporary matter. 
The Zuiderzee exhibition confirmed this idea. 
The contemporary-times involvement wasn't about contemporary folklore, 
but about reinterpretation, 
modern design inspired by old dutch folklore. 
While taste, style and aesthetic values are continuously evolving 
human behaviors don't change that much in time, they just adapt. 
I think we can find these recursive characteristics on the internet. 
And here comes my "involvement".
I found out that just as I've never been into 
my country/city traditions, i also (do not) relate 
with current habits on the internet. 
I'm just geographically connected, trough my ip, to the rest of the network 
like a 18th century's person who was not participating to 
its village folk's habits and celebrations. 
On the other hand, all the people always up to date with memes and myths on the internet, 
using social-networks, blogs, forums and chats, 
corresponds to the folk of that time. 
Different context, different medium of transmission, different people, 
same dynamics. 
We will see