When two exhibitions present a clear insight in the autonomy of modern designing, DesignResearch has to examen what it is all about and who is involved.
This occasion was presented by the "Joyride Expo" organized by Platform 21 and "At Random: Networks and Crossovers" curated by the Paviljoens Almere.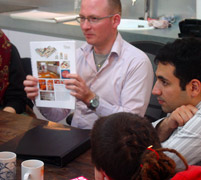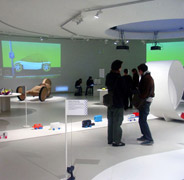 (l>r: at studio Tjep > cuddling the XXL-chair > visiting JoyRide Expo)
The participation of the Dutch product- and interactive design avant garde presented an unique opportunity to experience the freedom in which design concepts can be developped. This became clear at the opening event of the Joyride Expo, when designers transformed remote control toycars into their ultimate joyride dream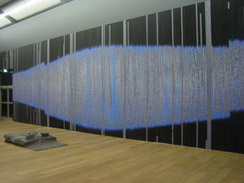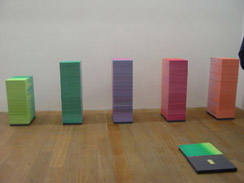 (l>r: Skycatcher by Maurer & Puckey > Expo & Reader designed by Lust)
When visiting Almere (only a 20 minute train-ride), Luna Maurer presented insights into the philosophy behind here work "Graybloc". One of her other works "Floor design" –an ongoing and ongrowing work in progress– covers the floors with mappings of the organisations consultative structure, as such visualizing the Paviljoen's network. We could be present to witness her weekly upgrade.
Studio >Tjep< was visited in a later stage as part of a students investigations. We enjoyed an informal presentation of some projectbooks, focussing on his proposal for the restyling of the IKEA restaurant.
Research material was edited down to A4 sized guided tours into selected subjects. All subjects presented in this list are also available as hard copy research prints at the ResearchFolders at the Rietveld library.
Related to Joyride the investigation focussed on the following subjects and people: Bertjan Pot (furniture design), Strange Attractors (interactive design), Marijn van der Poll (product design), Moniek van Heist (fashion design), Dinie Besems, Pieke Bergmans (product design), Frank Tjepkema /Tjep (interior/product design) the general subjects of >Concept Cars<, >Soapbox Racing<, "Craddle to Craddle" McDounough/Braungart (industrial design) the Nature Design exhibit in Zürich and its publication by Lars Müller, Droog Design, Bruce Mau's "massive change" (communication design) and as added subjects Sophie Krier (Design Lab) and the artist Panamarenko.
related to the ongoing At Random: Networks and Crossovers exhibit, the investigation focussed on: Jeanne van Heeswijk (artist), Lust (graphic design), Nathalie Bruys (geluidskunstenaar), Luna Maurer (interaction design), the At Random reader by Lust design, and the related subjects SKOR and OPEN magazine #13