Looking at the pictures on the website of Spacecollective I was fascinated by the pictures of patterns and structures. Most of these pictures where pictures with a high degree of symmetry. This started my research to look into the topic of symmetry.
Structures with symmetry most of the times seem to have something that is called visual esthetics. These structures have been a topic of study for centuries. It appeared that most structures consisted out of geometrical shapes that can be split into parts each of which is a reduced-sized copy of the whole. So the structure is build out of an infinite number of copies of the geometrical shape. Structures that have this quality are called fractals. The fractal is the perfect self symmetry. This perfect similarity can be described with a mathematical equation that undergoes iteration. So it seems that there is a language that can describe the perfect similarity to some extent.
To look more in to this language of similarity I researched one of the most fascinating fractals, the Mandelbrot fractal. Everywhere in the luminous area around the central Mandelbrot fractal you can find copies of the Mandelbrot figure. If you zoom in on the figure there are an endless number of copies, which get smaller and smaller.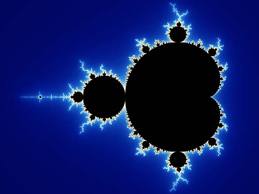 In a more mathematical depiction of the Mandelbrot fractal the self symmetry be come even more clear. With the enlargement of the picture new small spots appear. Which appear to be new Mandelbrot figures if you look closely. When this detail of the Mandelbrot fractal is colored it becomes visible that all fragment are connected via a complex network of curls and spirals to the biggest depiction of the fractal. So there is cohesion is the most perfect example of self symmetry!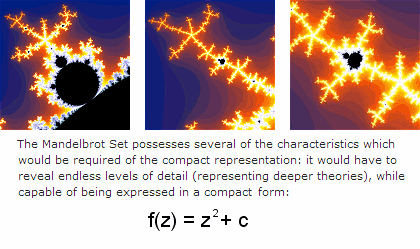 Fractals seemed to have an important function in the description of things that appear as chaotic systems. It brings structure in messy looking systems like particles with an extreme rough surface, the leaf shape of plant or the branches structure of trees.