– Look at me, don't look at me.
This was a description given by Patti Smith, when being asked about her style in an interview. The sentence caught my attention because of its simple descriptiveness of the rebel attitude. But this text is not about the musician and poet Patti Smith, but about the clothes she often wears. Made by her close and old friend Ann Demeulemeester, whose work I've tried to approached.
Ann Demeulemeester and Patty Smith. Two successful stories, still going on.
It seams they function like each others muses and fuel each other with creative energy. They have collaborated in some of Ann's collections. She seems like the perfect model for Demeulemeesters design. She expresses individuality and androgynity and that is two important themes in Demeulemeesters work.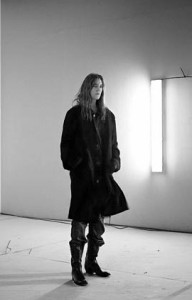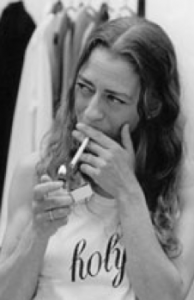 Ann Demeulemeester
B.1951 in Belgium
Lives in Antwerp (in Belgium's only le Corbusier house [x])
Attended the Royal academy of fine arts, Belgium 1978-1981
One member of the notable fashion group "The Antwerp 6" [x]
Set up her fashion house in -87.
In 2009 her business generated sales of about 40 million dollars.
Only wears her own design.
Consistency
Long term friendship, long stabile career and a loyal crowd who follows her.
Going through the history of her collections, from 1987-2011, You see that she has a single solid vision. Her outspoken critical approach to trends, hype and celebrity dressing is probably a reason to her popularity. She explains the success to old-fashioned hard work. Inspired by her father.
The Crow, Edward Scissorhands, leather, latex, horse hair and feathers…
My First impression was from the collection of 2011.
I wouldn't wear it.
Fashion for older women. Women Interested in art, who use to be punks in the 80's. All black… Lacing, high booths, leather gloves, fetish, goth, pale, thin models.
In interviews she says she hates to be labelled as gothic.
I like dark, but more sober. I could do without the leather laces…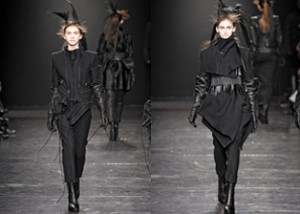 Atmosphere
Former industries, now galleries-area in Berlin.
I walked through a open door. Surprised to find a clothing store there [x], and even more surprised that they represented Ann Demeulemeester.
They didn't greet me, three busy quiet guys dressed in black. everything was black. I was a non-potential buyer, and felt a bit uncomfortable spending too much time in there. I wanted to take a picture but wasn't allowed. Couldn't understand why, didn't ask why. The place felt like a secret club rather then a public place.
Second store visit in Amsterdam, at Van Ravenstein [x]. (This time with my own photographer). White clean facade. classy, neat store. A bit nervous to feel like the non-potential-buyer again. The store was not very big but had three assistants; one young and two elderly women. I look around I order to recognize something from Demeulemeester, but it seems that this store was selling a more "simple" selection out of the collection. One of the assistants showed me, and I picked out some things that felt the most characteristic.
Another costumer was giving me a quick but evaluating look, from head to toes.
With carefulness I tried on a black shirt with white birds claws-print, and a thin, black cardigan with an unusual cutting. I read the clothes with my pre-impressions of a mood composed by websites, music, models, etc. but anyhow, I got cheesy heavy metal associations from the shirt… The cardigan was OK. Comfortable, and I like that it had a hood. It was hanging down in a nice way. I felt some eyes in my neck and one of the assistants asked me if it's a good size. I gave the answer, yes yes it's good, even though it was a bit too small.
I asked the assistant if she could describe the design from Demeulemeester. She was thinking for a while, and the answered with a very low and soft voice: androgynous… rocky… simple… women. She couldn't say who the customers were. Demeulemeester herself says her clients is not fashion victims, but individualists that chooses what he or she wants.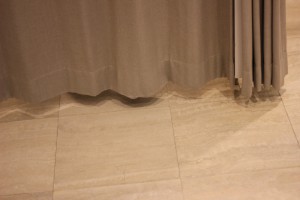 …austerity…dark…cold…wind…serious…quietness…concentration…horses…