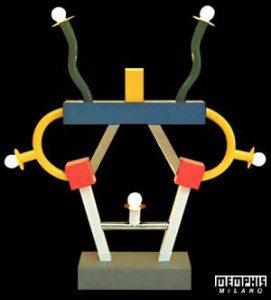 Ettore Sottsass (1917-2007) was a vivid rebel, a child with grown mans needs. He was disrupted by rules and clear ways, why do we (have to) live by rules? He wanted to play so he started a game of his own: The Memphis Group. A group of designers from around the world to fight against traditional functionalism with a postmodern touch and only one rule, there is no rule.
They really did create something new, a new kind of playground and standards for being creative and getting rid off limits and good taste. Memphis was colours, forms, lot of different materials. It was an attitude. Easy but radical ways to get close and referred by Ettore Sottsass himself as a strong drug what you should never take too much.
They were active in the 1980s. The artists tought Memphis as a trend wich would die like in fashion.
The Ashoka table lamp(1981, Ettore Sottsass) has a major status in the Memphis Collection. For me it looks like an altarpiece, a sculpture full of life, light. It has five corners and it turns out by the symmetry as a statue.
It really wants the attention. An ad/hd kid who is only positive and wants to show you that there is a smile around us, it makes me smile.
Ashoka was an Indian emperor who was a peace ambassador, a leader who knew how to make a change and that the change is in need. A great example of positive change in history, kind of like Memphis itself.
He wasn't trying to create a utopia or a better world but he wanted to get his voice up and make a comment for the whole industry. I think he saw the bitter and wanted to add some sweetness, a lot of sweetness in the world.