Hermann von Helmholtz was a German physician who contributed greatly to different areas of science. In 1851 he made a color system that looked like this:
This color system illustrates how color is perceived by the human eye. The system is based on a previous study made by Thomas Young in 1802, the color system has therefore been named the "Young-Helmholtz theory". Young's study states that there exist 3 different types of photoreceptor cells in the eyes' retina, who are each sensitive to a certain range of light.
Helmholtz then went a step further by assigning different colors to the wave lengths that the photoreceptor cells were capable of detecting. Short wave length, Red. Middle wave length, Green. Long wave length, Violet. If a color between the primary wave lengths is seen, the different cells will react to create a mixture that will create this color. For example, if yellow is seen, both the photoreceptor cells receiving red and green will mix to create this signal. The diagram underneath illustrates this. (1 red, 2 green, 3 violet.)
Colored light is additive, which means the more color is mixed, the closer one will come to white. This is why white is centered in the Young-Helmholz color system. The lengths represent the amount of color eventually needed to get white.
All in all this color system concluded that us humans are trichromatics, which means that we have, as mentioned before, 3 different cells in our eyes that can catch different wave lengths of colored light. So if you are missing one type of these cells, you are colorblind. This information eventually led to developing a color blindness test that is still used today, called PIPIC.
Being new to painting, and especially mixing colors, I was amazed that the three cells in our eyes mix the color that you see for you (and much faster and more accurate than anyone would ever be able to do by hand!)
Hoping to maybe understand how my eyes got so good at mixing color, I wanted to visualize this unconscious mixing trick that they apparently do. I learned from my color system that the mix of colors, which happens in the eye, is a mix of three colors; red, green and violet.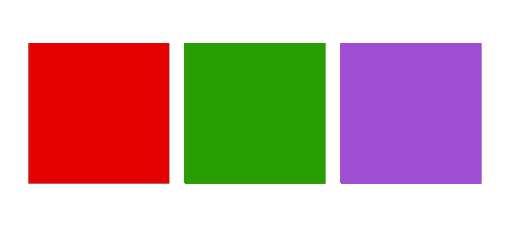 The three colors are divided into wavelengths, this is how the three different cone cells absorb them. Red, short wavelength. Green, middle wave length. Violet, long wavelength.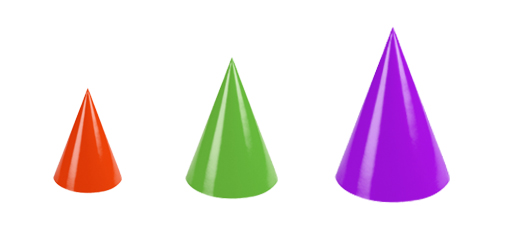 When we look at different colored things, our cone cells do the mix and our brain sees the  color. cool.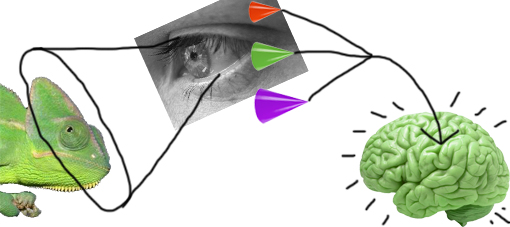 I therefore thought that I might have to put one monochrome item into focus, too boil the mixing process down to the core. I first thought I might make the cones the color of what they saw, to show how they, when mixed, visualized this color. I tried this with a cucumber and the 3rd floor of the rietveld building.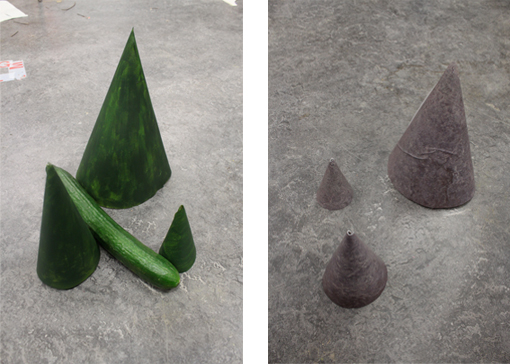 But it was simply to easy and felt repetitive showing the same color twice. colors are also such an ambiguous and individual experience, so giving the mixed color away this clearly was no fun.
I wanted to show how the eye really works on this almost incomprehensible subconscious level. The cucumber could stay, but the cones needed color!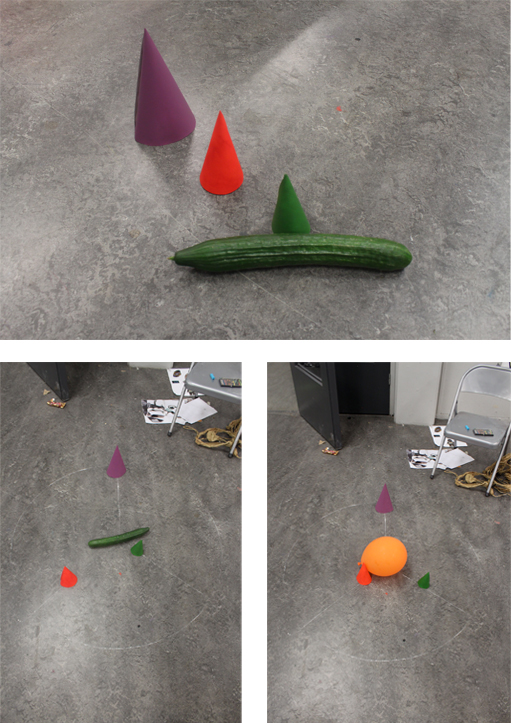 I decided to draw a chalk circle (vision is ephemeral), with the object in focus centered. From the center I drew three lines, one for each colored cone. The lines are the same length and represent the amount of that specific color needed in order to achieve the mixed color of the object in focus. The closer they are to the object centered, the more is needed.
So far so good, But a cucumber does not just lie on the floor, a balloon might, but it still seemed too random. A cucumber is found in the supermarket or in your fridge and the balloon, maybe at a kids party. But drawing chalk circles at albert heijn or amongst 30 six year old kids on a sugar high also seemed random.
Chalk is an outdoor thing and so is color, luckily. So I went out in my surroundings and documented, with photos, the different objects i saw. I eventually made a book with all my outdoor color observations.
It starts with a green dust bin and then travels around helmholtz color system going to a yellow car and so on, until we reach another dust din, but this time blue. The circle has been completed. At the very end of the booklet we see a white cup, white being a mix of all the colors deserved a special place, so there you go white.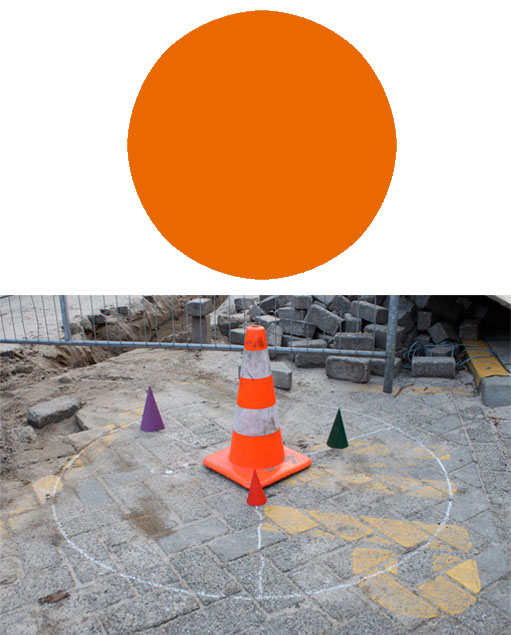 I am very glad i finally got out of my apartment and ended up working outside, because colors outside, or in public, as communication, is a big part of my color system. The colorblindness test that the Young-Helmholtz theory helped develop, makes sure pilots aren't color blind, so they know what the light signals on the airstrip are trying to say to them. likewise this also goes on in our everyday public; traffic signals, which bin to throw the right trash in and where the best offers are in dirk. which is why i choose orange to be my screen printed color, featured as a signal cone in the book, because it communicates so nicely. thank you orange.
i brought my book home with me for the holidays, my family liked it.