Marcel Wanders and his airborne snotty vase
Scanned from the microscopic specks blown out when humans sneeze, hugely enlarged, and then produced using SLS rapid prototyping technology (dimensions 15x15x15 cm).
This is the description of the airborne snotty vase designed by Marcel Wanders. When I was looking around in the design exhibition of Stedelijk Museum Amsterdam I felt directly connected to its color, shape texture and the energy of the piece. How is that? What attracts me so much with the piece?
I started a research on Marcel Wanders to understand more about his perspective on design and his extraordinary new vision on what the function is of design. Especially his vision is what interests me so much. As a student he was already discussing the "function" and set-up of design. His view on design is "a designer should not apply to one's costumer". According to Marcel Wanders it is the other way around. He works towards his designs and says it is up to the designers to carry out their vision to this world.
Other students and teachers at that time found his statement/vision not in any way realistic. Still Marcel Wanders was pursuing his dream which made him a autonomous thinker within designs.
"Products can change function, the core is design"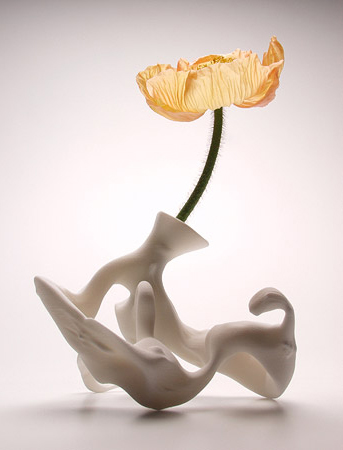 This work (snotty vase) has a autonomous design. The function is not what made the piece, its the concept. The airborne snotty vase is a perfect example of his vision on designs. He shows that he can design according to his vision instead of a method. This points out that Marcel Wanders is able to execute his dreamy perspective on art and design.
For me this piece could also be used differently then only a vase. It could be worn as a piece of jewelery, a pen holder, it could even be a model for a bigger sculpture work. The endless possibility's of the piece leave a gesture for the observer as well. When I saw the piece at Stedelijk Museum Amsterdam I didn't think it was a vase. For me it was a free form giving me the possibility to analyze what his vision is about and to give it multiple functions.
Because of this free interpretation the piece shows it could be a solution to have a broader perspective on design and art. It gives new information about the mind of the designer and the need of people to see more then only a constructed piece.
For me this is an important statement. By this way of working and thinking, one creates more interest, personality, and life in art and design.
Observing Marcel Wanders work I can see the need to create one's own vision, and working with new techniques and materials. This is also what I try to do in my work. When I was learning the craftsmanship of jewelery I applied this new material experiments as well. Working with 3D printed elements and polyurethane to create a new movement within the traditional jewelery scene. Exclusive and provocative designs made my work change the perspective on traditional jewelery. By doing this I have shown my need for change, and my interest in the future.
Another important thing shown in the present time is that we have the ability to design on an another level. Intuition and concept capturs a bigger role in the design process. Craftsmanship occupies another purpose in the piece. Still craftsmanship is important to indicate the value you give to the piece and to reach a certain personality. The possibility to design on another level is what we could use to give more meaning to the piece and to make designs more collaborative with the future perspective of the world.
Marcel Wanders shows in his work this future perspective and combine's it with craftsmanship. He understands that perfection is not most important anymore. Maybe it is even a small mistake which makes a work personal.
Designs can be made perfectly, everything will be calculated and mistakes are seen before the making has begun this is because of our modern industrial and digital world. It is time to look for other values then perfection. Values you find in a layer which weren't touched before Marcel Wanders gave his input in design. And this might be a layer we can expand more to keep moving forward and to take more out of modern life with its endless possibility's.