Composing the chaotic mind
  meeting Hendrik Kerstens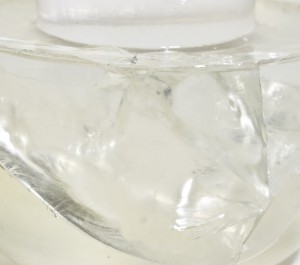 Sound file: music: Dimitri Shostakovich Piano Concerto no.2, Andante
[audio:https://designblog.rietveldacademie.nl/wp-content/uploads/2017/04/Konzert-Schostakowitsch.mp3|titles=Dimitri Shostakovich Piano Concerto no.2, Andante]
Meeting people in an age of the internet and social media seems not romantic at all, which I can assure you it isn't. When we got the assignment to meet a person we admired and make out of this experience a design object, I made a list of artists I considered as being interesting and admirable. Starting with the first name, I did not get any response and waited for a week. I tried another artist but also he gave me a radio silence. Choosing another artist seemed just as interesting and I send another email.
But having to present my progress in the project and having no responses yet, made me feel a little isolated from the world. 'The inner monologue' took its place in my mind.
Thinking about this brought me to the feeling that I wanted to make an isolated space which resulted in a mock-up of a room, made out of four wooden walls isolated with foam. The idea was  that a person would be able to stand inside of the isolated space and was able to listen to my spoken inner monologue without the outside world being able to hear it. Of course for me this was not the best idea and I was far from content…
inside my box I got a vision….
Then something great happened. In my inbox appeared an email from the management of Hendrik Kerstens. I have been intrigued by Hendriks work from quite a young age. Interested by the pure combination of modern vision and classic interpretation of the composition of the portrets he has made.
He wanted to meet me. I got into a back and forth communication with his assistant by mail, which resulted after rescheduling and answering questions into a date. Hendrik invited me to his photo studio in Amsterdam.
When I came there at an afternoon he let me in. I was struck by his big black glasses with the kind eyes and the clean and sharp looking white studio with black furniture and equipment.
The room was filled with the sound of classical music which comforted me and everything was organized and clean. We started talking, I asked him questions and he told me a lot of inspiring things. When I asked him about his clean, organized studio, he told me that this was necessary for his chaotic mind to run free. So his surroundings would not interfere with the creative processes in his mind. He said that the process of making a picture was as composing a piece of music. This process he also addressed as sometimes hard to let go when it's finished and ready to leave the studio. He quoted:
"Art is never finished, but only abandoned." -Leonardo da Vinci
Hendrik Kerstens surprised me with his enormous power of persistence in his new ideas and projects. He spoke of his desire to bring sculpture and photography together, which he is currently experimenting with. And a future project where he wants to create a close connection between painting and photography. In his vision, one I would want to live by, everything you can imagine is possible.
Hendrik gave me advice in the end and I gave him a print of a pinhole picture that I had made which he accepted with a smile. When he let me out, I felt light and encouraged.
My conclusion after this meeting was that I had to rethink my idea of the isolated space in total, I had been to quick to give in and this good experience deserved a good outcome.
Thinking about my experience the subjects of 'composing' and the 'chaotic mind' kept running in my mind. Letting this be, I started developing an interest in the material epoxy and especially in its clearness after molding. I made several try outs by molding the epoxy in different plastic, glass or porcelain cups and Tupperwares. The idea was to take the chaotic aspect and function away from the object and create by molding a simplification of the shape.
After drying the objects, some were easy to come out and some I had to break out, some had air bubbles or even cracks which for me became interesting aspect in the idea of a 'crack in the mind'.
Interested by the molds of the epoxy as well I made molds of clay, to create a connection between the mold and the epoxy. The epoxy in the clay mold gave a watery effect, even after drying it seemed liquid and shiny but would not come out of the clay mold. I disposed two epoxy objects from their clay molds and this created a look which reminded me of the glass smoothened by the sea.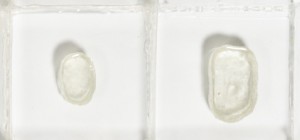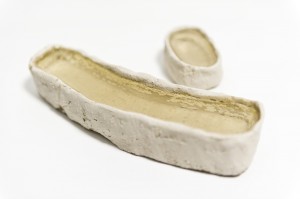 For my last experiment with my epoxy objects, my interest was captured by making an epoxy mold for an epoxy object. My expectations were by filling a bigger Tupperware with epoxy and hanging the already dried epoxy object in it, that after drying I was able to take the object out again and this would leave me with an epoxy mold. But it didn't, the epoxy object and the fresh epoxy
into the Tupperware had melted together in one totally new object. The 'melting together of ones thoughts' created its own existence.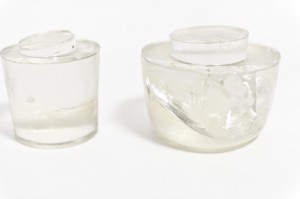 Looking at my experiments resulting in a collection of epoxy objects, a simplification of chaotic objects, the thought arose that I wanted to recompose or rearrange the different objects, creating 'the recomposing of the chaotic mind'. Therefore creating a grid in which every space had the same measurements (except a special one) so the objects could be recomposed in any position.
My doubt was with the material of the grid: metal or plastic sheets. But fate took this decision from me when I was not able to work in the metal workshop for it was closed and so it became plastic.
The plastic sheets I glued together, creating a clear construction. In retrospect I was satisfied with my decision to use plastic, because of the subtlety, clearness and connection with the epoxy objects itself.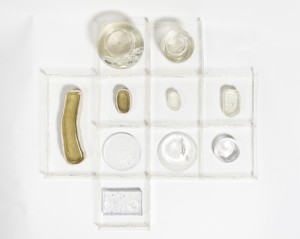 In the end, recomposing a chaotic mind is creating something clarifying. I'm not sure if I would address my final outcome of the design project as 'clarifying' rather than 'clear'. In my opinion I made a composition, in which every object is a 'clearer' form of itself.