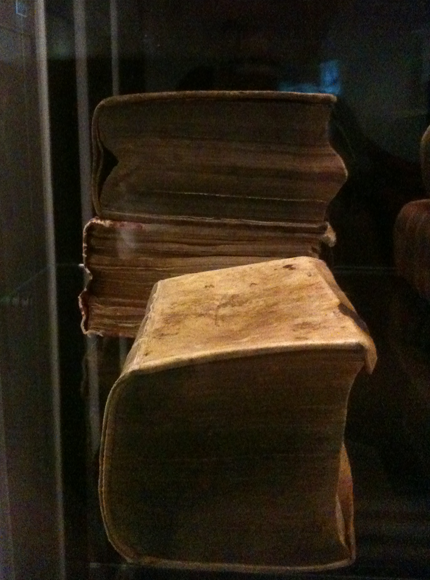 In media res. Irma Boom. Can't believe she worked on a book for 4 years. 4 years. That's a lot of time, a lot of energy. A lot of passion. I guess one can easily sense the passion and effort that she puts in the books she makes. I admire her.
But then, there, amongst the passion and well-trimmed books, I find a piece of wood. The book seems hard on the surface. It's like you can count the growth rings in it. Hard and mushy at the same time. A paradox. It has a story to tell. Kinda like this old grandpa full of wisdom, full of mystery, full of everything you can imagine. Yet it kind of reminds me of those big pieces of cheese. They have also wholes in them, as the book has scratches and bruises here and there. And I guess they, too, have some sorta history. A cheese history, I guess.
I find myself deadly curious about that book. It is enormeous. I wonder how thick the papers are, I wonder how many hands have touched it. I wonder how large the typography is, I wonder how it smells. I wonder if it's one long story. Oh my, it sure is mysterious. I find myself wondering if it really has pages in it. Or maybe it's one of those fake-books with a whole inside. No. It is a real book. A modest book. A proud book. A book with a story. I guess that's kind of 'meta'. A story that has a story.
The end.