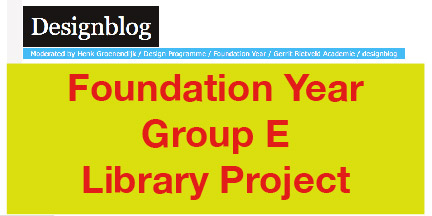 New Tags for the Rietveld Library:
How do you find interesting books when you don't know what you are looking for? How do you stray through the collection in search of inspiration? Can the library catalogue help you or do you better construct one yourself, Exploring connections in the library between design- and artbooks, students created keywords/tags that linked them together.
a recount of tagging the library
Click the keywords/tags from the Tag-list [purple column at the left] to see all related postings, or use a yellow keyword link [below] to read the postings and experience how they are connected together. Use these keyword links to navigate between the postings!
overview, freedom, animal, elder, identity, intervention, repetition, connection, tattoo, self sufficiancy, structuur, illustration, pyramid, leader, visual language, individuality, playground, best, give, beeld, independent, shelter, West Coast, time, neon, develope envelope, fragile, construction, wisdom, invention, oppervlak, culture.