'This art work is designed by one American artist' ' She is one Chinese designer' 'This is one typical Dutch design work' 'German style'… No wonder, nowadays, the introduction of the modern art works is commonly and normally to be started in this way : start with identity defining. It seems like identity is something necessary when we are going to know something new. Does it mean all cultural exists have to find one sense of belonging ? Does it mean the original influence from our mother culture background always take the leadership when our brains start to work?
Globalization is like the invisible hand which is moving the modern world to keep going forward, and the mixture of cultures seems like the direct result of  the international moving and communications. Being influenced is different from Copying, but how can we define what is 'copying' and what is 'being influenced'? Do we have to take the negative attitude when we look at 'copy'?
Tons of questions may be thought about identity and copy as they have such a close connection with each other. Here, One young artist, He Jing ??? whose art work is 'Tulip Pyramid', introduced her own thinking and reflections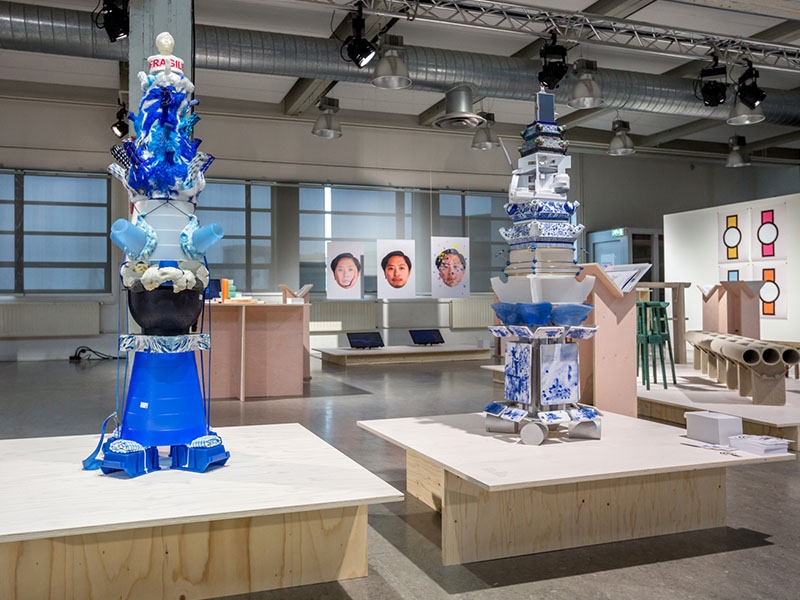 about copy cultures. When we talk about who is she,we may say 'One Chinese  artist', ' The graduate artist from Dutch art academy' or ' He Jing'. Three kinds of introductions may bring three feelings to the public audience,'oh, she is Chinese which means her works must be influenced a lot from her mother cultural background.' ' oh, she was educated by Dutch art education then she may think about art in dutch ways.' ' oh, who is He Jing?'.  She noticed these kinds of questions about identities and then she developed a series of research based on the cultural identities questioning( you can find in her website He Jing). As she keeps discovering about her own art identity, she noticed that there is one phenomenon among China nowadays, which is the industrial copying. For those copied products, what is their identity? Seems like those copied things live in a parallel world where is in the gap of two original identities.
When we back to the copying culture, obviously it's not a Chinese thing only, it's a common humanity thing. There are so many examples of ancient cultural copying behaviors, which finally created some unique and wonderful works at the end. Delft blue; The Japanese cultural origins from Ancient China and so on. (The Culture of Copy).
As she develops and researched more and more about the copying culture between China and The Netherlands, He Jing finally created these two tulip pyramid which shows the combination of Chinese copy products and Dutch copy cultures. She implies her own education situation with this tulip pyramid-mixture of two original cultures and their copy culture gaps.
As a new freshman who came to a new culture for just one and a half year, what attitude should I always cary with me when I am facing two different cultures everyday? Apparently, the open mind should always be put first place but how can I take the sprit of other cultures without the directly copying?I think the answer is to get the way and the angles of another culture about how they look at the outside world instead of the shallow images or shapes.
Keep in mind about the originals and embrace new cultural influence as much as possible, get their sprits and melt cultures in heart then turn those into new art institutions.