László Moholy-Nagys films can be categorised into two categories. 1. Films of objects and 2. Films of people…
László Moholy-Nagy was raised in a small village in Hungary during the early 1900 hundreds. In his youth he studied both law and fought in the First World War before he attended an art school. In 1919 he moved to Vienna and in 1923 he became a teacher at the Bauhaus.
László Moholy-Nagys art can be described as abstract constructivism often strict, sometimes humorous and playful. László Moholy-Nagy is not only an abstract painter but also an abstract photographer, teacher, theorist and filmmaker.
When considering film-works from László Moholy-Nagy it is tempting to make a psychological journey through the history of a mind.
In the film "Grossstadt Zigeuner" from 1932 a group of village people, probably in Hungary, can be seen dancing, singing, working, children are playing and animals are running around. The images flashes fast and chaos is present. I consider the films, in themselves, to be a kind of documentation of human life in a certain place at a certain time, memories from his own life. Films of people.
In the other category, the one with films of objects, you find works like the "Ein Lichtspiel" from 1930. Indefinable objects in constant movement, lit with strong reflecting light, flashing by in short cuts create abstract films. These abstract films seems to reflect city life, structure and the new harmonic world of pure art, politics and thought.
When viewing these two categories it is possible to claim that a strong yearning for self-reflection of human life and history was important for László Moholy-Nagys. By using his own experiences from his diverse life the films undertakes a divers form. Like a rule of nature.
When considering modern art from mid and late 20-century there seems to be a will to purify art as far as possible. Abstract painters used strict forms and the ideas of de Stijl and Bauhaus was strong. When considering this, László Moholy-Nagy's films can be seen as unfitting in it's variety and non consistent form.
László Moholy-Nagy himself claimed that good art and design should emotionally reflect the world around us.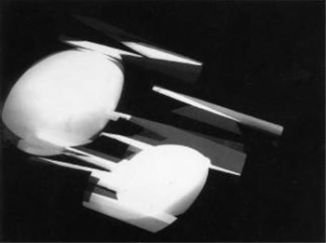 Can art reflect life by purifying itself?
Considering the diversity of László Moholy-Nagy's work and his claim of reflecting emotions and life in his own work it is possible to think that László questioned the idea of purification that his predecessors aimed for. Parallels can be drawn, to the philosophical thinkers of the time, Freud and Marx who structured the realm of truth by purifying theories of human behavior such as Freud's theories of the unconscious as an explanation of reality or Marx's claim that the truth can be found in the structure.
In modern thinking, with philosophers such as Derrida in mind, the idea of pureness and truth has been seriously questioned.
"My" "own" conclusion is that László Moholy-Nagy's "films" indicates the impossible claim that "purity" of "art" truly "reflects" "life".
more on Moholy-Nagy's films go to [x]