The bricks manifesto is a collaborative version
of 'this is (not) a manifesto' to bring people together
to discuss their education vision during DDW 2012.9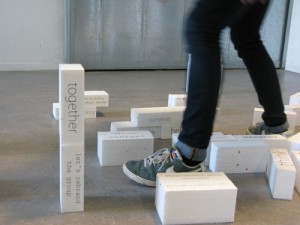 UnBornLab
Presented at the graduation show of the Design Academy Eindhoven during Dutch Design Week 2013, UnBornLab is a masters project, initiated by Eugenie de Lariviere, looking at design education from a design student's perspective.
It was important for me to understand education from my own perspective; as a student and a designer.
Mixing both a field research on a local level, and an academic research on a more 'global level (that is the European level), I felt the need to always bring the theoretical part into practice, by organizing workshops, discussions, lectures, interviews (etc), in order to grasp an understanding of the big notion that is education.
One way to do so was to analyze how the system functions. I was able to get an overview of it by breaking it down into four 'elements', which together, represent the main 'pillars' forming our schools. These four elements being; community, structure, content and environment, the interactions they have together shapes the different academic institutions we know of.
(For example: Structure = Content implies that if structure makes content, it induces a top-down approach of knowledge, raising the question of knowledge accreditation, knowledge hierarchy, as well as of formal vs. informal knowledge. Whereas Content = Structure implies that if knowledge forms structure it leads to a more bottom up approach of producing and sharing knowledge for example; crowd source and open source systems. The same goes with structure = community vs. community = structure and so on.)
To communicate the concept clearly, I visualized these methods of the 'four elements' by quickly sketching them into volumes. It was once again a means of bringing the theory into practice by giving shape to the research. Making it physical also enabled me to reach people who did not feel strongly about the subject.
Community = Content  vs.  Content = Community
Following on the idea of 'rethinking' education from a student's perspective, I chose to look further on recent shifts in the relationship between 'content' and 'community', focusing on students as the bearer of contemporary knowledge.
With the faster availability of information the world is transforming at a greater pace and students are often proven to be quicker to adapt to these changes, may they be social, economical, political (etc). The content they bring in the school, as an addition to the curriculum, comes to show more applicability regarding the world they evolve in. In this process, schools go from being knowledge distributors to becoming intermediate spaces where a dynamic cross-pollination of knowledge happens.
The UnBornLab functions as an experiment to document students' working processes as the basis for renewing design curricula.
The first step of the project was a blog to bring student's current research (in this case their thesis topics) outside of schools.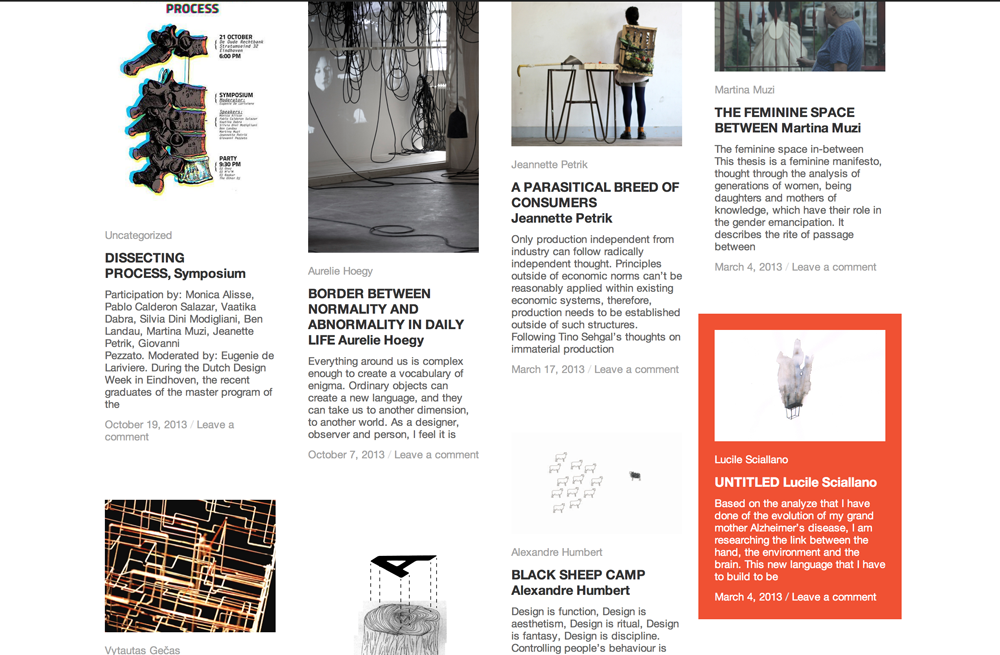 Believing in the importance of students' self-taught expertise as a school's temporary knowledge, the idea evolved in the motivation to create a dynamic archive of this knowledge by building a self-generating library of past researches.
Through a series of short video-interviews students present their work, focusing on the research rather than the outcome. Considering students as temporary 'experts' of their subjects, the videos can be seen as short introductions on given design topics. One topic leading to another UnBornLab intends to be the start of a dynamic knowledge database of 'UnBorn' designers.