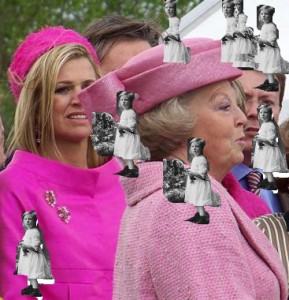 I saw an ingenious orange dress based on traditional dutch clothing. It was made of a deep orange heavy fabric and the hood was shaped like the head of a mouse. The dress was interesting and it made me think of the colour orange.
I have a tendency to avoid everything that is orange.
Van Oranje (orange) Nassau is the name of the Royal family  and that made orange the national colour of the Netherlands. There is an anual tradition called Koninginnedag (queensday) which takes place on the birthday of a former queen: April 30th. The colour in which Amsterdam is covered that day of the year is, of course, orange. Repulsive objects such as blown up plastic hands, orange cowhats, clogs that one can float in on the canals. Drunk man and woman from the countryside walk around in orange t-shirts, skirts and pants with orange hats, boa's, gloves, necklaces and wigs on. You name it, they wear it in orange. On this day orange donuts, cupcakes and pastries are eaten and faces have orange flags painted on them.
The screaming orange is everywhere. When there is a national soccer game the country turns orange again. On those days the average dutch person does nothing but jumping around, shouting  and drinking beer. A lot of beer, and more jumping.
I always associate orange with this obnoxious folklore.
This is why wearing orange or having orange around is ruined for me.
It is why I like lemons more than oranges.