Moses Harris [entemologist engraver 1730 – 1788] examined the work of Isaac Newton, and tried to discover all the variety of colours that can be determined from principal colours : red, blue and yellow
Harris presumed that these colours, when are mixed with each other can form all the colours and tints (660) in the nature.
Nature was his guide and assistant , as the arrangement of the principal colours is systematized according to those reflected by the prism, where we find the orange colour lays between the red and yellow, green between yellow and blue and purple between blue and red.
These colours coming in continues succession gave him the first idea that they should be placed in a circle. He thought that this order agreed with what seems to be demanded by nature.
The nature of the thing divided the the whole into two parts: prismatic and compound
He noticed that
PRIMITIVES – red yellow and blue are most common especially in wild nature
MEDIATES – orange green and purple are the colours that mother nature decorated most of the flowers
To show all the variety of colours Moses Harris created segmented circle and its identification system.
He applied water colours in layers what allowed the subtle transition between colours and shades.
According to Harris explanation, the primitive prismatic colours each use the use three parts of a single color (red, yellow, or blue) while the mediate prismatic colors are two-to-one combinations of the primaries, determined by their position on the circle.reference. From this information, we can assume that each compartment received at least three washes or layers of color and perhaps as many as twenty, the number of shades or tones Harris designates within his circle. It is unlikely that Harris used as many as twenty color layers to create the deeper tones in these plates, however: It simply was not necessary. The narrowing size of each arc gives the perception of color darkening, and Harris may have taken advantage of that effect, just as he relied on the white paper surface to aid representation of the lighter shades. It is likely that Harris used some smaller number of color washes—three or six, perhaps—for each of the eighteen colors in each of the two circles.
He linked colours with some pigment, fruit or flower
PRIMITIVES:
Red – Vermilion – Wild poppy
Yellow – Kings Yellow – Butter flower
Blue – Ultramarine – Corn flower
MEDIATES:
Orange – Red orpiment – garden Marigold
Green – Sap green – Leaves of the lime-Tree
Purple – Hairy sheep scabius – flower if the common Judas tree
COLOURS CIRCLES
PRISMATIC:
Red, orange-red, red-orange, yellow-orange, orange-yellow, yellow, green-yellow , yellow-green green, blue-green, blue-green-blue, purple-blue, blue-purple-purple, red-purple, purple-red
COMPOUND
Orange, olave-orange, orange-olave-olave,gren-olave, olave-green-green, slate-green, green-slate-slate, purple-slate, slate-purple-purple, brown-purple, purple-brown-Brown, orange-brown,brown-orange
equal amounts of red + blue + yellow = black
equal amounts of purple + green + orange = black
white is seen as the lack of colour
Contrasting colours lay on the opposite sides of the circle
According to Harris his colour system has both practical and philosophical uses. He mentioned an experiment in which blue arises from the orange of the candle flame. These are the contrasting colours that lay in the circle opposite to each other
There is nothing known of the contemporary use of these color circles.
MY research OF THE MOSES HARRIS COLOUR SYSTEM
Moses Harris presumed that these colours, when are mixed with each other, can form all the 660 colours and tints  in the nature.
The ones that he himself actually found in the nature were just 6 of them (red yellow blue green orange purple).
Where this small amount of examples comes from? Moses Harris lived in the XVIII century, when there were not many ways of transport and traveling was not easy and common. He was most probably, just looking around in his surrounding.
Nowadays, we live in the globalized world and traveling is an everyday thing. We have planes,  cheap flights and we can reach any place of the world.
Moreover we can also travel in the cyber-space through the internet. Internet is an enormous source, all the world is there. Its a very big source of information. Most of the people use it daily, to search for different kind of info, to  check our email and also for the social networks among which the most popular is Facebook.
Facebook is a huge personal (but not only) information area. Members post
photos from their journeys.  Next to the photos of people and architecture one of the most popular are photos of nature.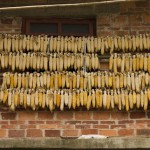 I find this modern world and digital media a very interesting topic, that is why I decided to search in the photos of nature taken by my Facebook friends posted during their whole existence on Facebook
I found many photos of nature  in a bunch of different tints, but still many are missing.
I was thinking what would be a great way to present them and decided to make collages  that  take a way a bit the realistic look of plants. make them more abstract ( each 10 tints ) .
blue- purple   / purple-red  /  orange-yellow  /  yellow    / yellow-green

I am still in the process of creation. At the moment there are many parts of the Moses Harris circle to be filled in. It leaves the open space for other people. If any of you is interested to search for the nature photos of their friends, please do that and send it to me : a.d.radzimirska@gmail.com
I am pretty sure that together we can fill in every segment of the whole circle of Moses Harris.