Does this mean you make the same mistakes twice?
Do we re-live our past but in a different atmosphere?
Can we see our future in the history of time?
It is surprising how the sum of the past and the future can result in the present. As well as in the last book I've chosen, I have the feeling that two different time spirits come together.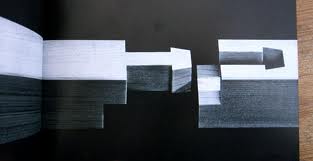 The layout and especially the letters used on the cover of this book are very old fashioned; the use of soft orange dyes in a round shaped fond combined with a black and white frame. A frame which reminds me of origami class where at least six women with the age of forty-five and higher are sweating over a piece of paper trying to construct a whooping crane. But the picture of the cover doesn't correspond to my slightly ironical conclusion at all. It is a picture of two wooden beams with beautiful shapes on the end of each beam. The shapes are perfectly opposite so that they can fit together as two pieces of a very complicated puzzle. It looks very modern, like something they use in high tech vehicles or space ships.
At present, the title began to dawn on me. It said: 'The art of Japanese Joinery', made in 1977
After a small peek into the content of this book, it occurred to me that it was filled only with old Japanese ways to attach two or more pieces of wood together. Not in the prefab-style we attach stuff these days, but on the most exquisite, caring and futuristic way possible. I felt for a moment so angry at our IKEA society where everything has to be cheap so you can buy a new sofa every four years, not caring about old handicrafts and their gift to make the most refined details. Details of such beauty that you have to suppress the urge to dismantle your closet only to see how it has been made.
The tender approach of something so simple as to attach two pieces of wood together reminds me of the first book I had chosen, where Nabokov describes individual letters of the alphabet in the way he experienced them.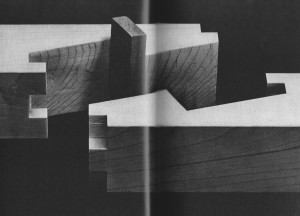 Affection, or at least attention, for stuff we work with everyday, like the feeling of a specific letter, a symbol or a construction, is very rare these days. We don't seem to have time to notice these small 'gifts' in the rush of everyday life. So next time you go to the library, go with an open mind and grab the very fist book that draws your attention. You'll be surprised what comes out.
Rietveld Library cat.nr: 694.1