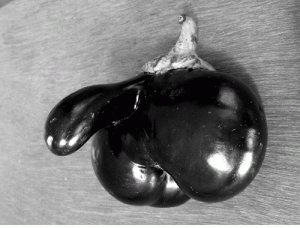 In her latest exhibition "Kutten en Lullen", Dinie Besems shows us a collection of oddly shaped vegetables. All shapes which in some sort resemble a penis or vagina. It's not her intention to shock us, or make us laugh, she wants to show us these weird mutations of the fruit and vegetables we eat every day. I think this project shows a lot of how Dinie Besems works. She started as a jewelry designer, at the Rietveld. But during her career she's not afraid to cross borders, cooperate with graphic designers and other artists, and to step away from the conventional "jewelry design".
With a bit of humor and a lot of concept she stands out among other designers. You never know which way she is going to go, but in the end it's always something touchable, something that relates to the human body (as in jewelry).
What I noticed is that Dinie Besems often slides over into different diciplines. But in her whole oeuvre I can detect an overall interest in the communicative values of graphic design. Magazines, posters, her website and other collaborations with well known graphic designers. So where does that come from? How does she see this crossing over and are graphic design and jewelry that far apart as I thought they were?

Graphic_Juwelery