I decided to visit a glass factory, I met Just who controls the machines that generates 200.000 beer bottles per 8 hours. I wanted to see the mass production of daily glass objects, wine glass, beer bottles etc. The contrast between the two images that glass has: The cheap, functional mass product and the crafted, expensive, complicated, cultural acknowledged glass, was clearly visible in the factory visiting the production part and the craftsman department. Both in the same factory, two completely different stories.
I decided to learn to make my own hand crafted beer bottle to combine the cheap image of a beer bottle with the expensive one of crafted glass. This process was longer, intenser, more impossible and way more difficult then I ever thought. In the end this process, of searching for  methods getting to know the material (a little bit) and working together with all the elements that need to be just right in order for the glass to do what you want it to do, took over the functionality of the bottle.
You work in service of the glass, if not it will master you. I had to adept towards what the glass needed, the time, the pressure, temperature. I could wish for all that I wanted but there was only one way to go. The focused and calm research of the glass. It feels silly or a bit like a cliche, but the glass forced me to work in a way which I often try but where I also often fail, it made me really be in the process.
–
Measuring the bottle  Blow a bubble Take glass two times
Blow
Shape it Glass to thin at the bottom Broke when putting in cool down oven Blow a bubble
                                     Take glass two times
Blow
Bubble a bit small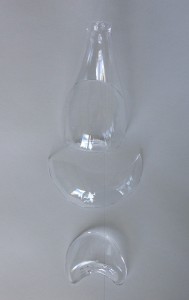 Shape it
When putting in the oven    Broke
Blow a bubble     Take glass two times   Really hot Blow   Bubble a bit small     Shape it     Put in oven  Heavy
Blow a bubble        Shape it         Really thin glass      Broke when putting in the oven
Get a piece of colored glass    Blow a bubble     Take glass two times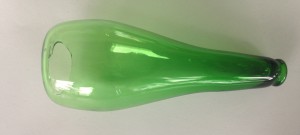 Shape
                             Blow
                                                   Shape
Bottom to thin
Broke when putting in the oven
Get two pieces of colored glass  Mix them Blow a bubble   Take glass two times
Shape
Blow
Shape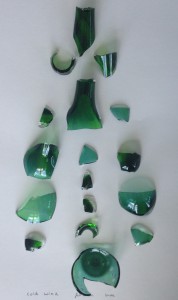 Open cold wind
Glass cools down
Falls off
Broke
Make shape in sand  Make sand wet Poor glass into shape  Sand to wet starts to boil  Making a glass volcano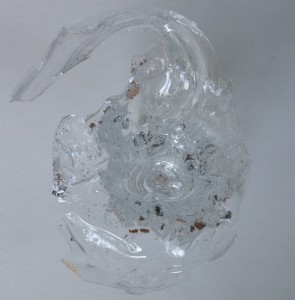 Making a mold from plaster  Get glass  Blow a bubble More glass                 Blow  More glass  Blow  More glass
                                                                                                 Blow
Turn a lot
Shape a bit Wait for perfect temperature Open mold Let the mass sink perfect timing closing the mold
Press mold as tight as possible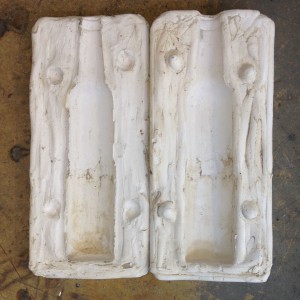 Blow
Blow
Blow
Blow
Blow
Press
Open mold Take out the glass
Cool a bit
Make a cutting line Glass to cool for cutting line Broke
Fall down Transfer to cool down oven asap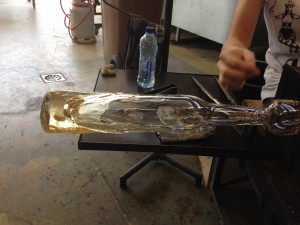 Blow Turn a lot  Shape a bit Wait for perfect temperature
Open mold Let the mass sink Perfect timing closing the mold
Press mold as tight as possible
Blow
Blow
Blow
Blow
Blow
PPPPPPPFFFFFFFFF
Press Open mold                 To little glass and to cool                     Take out the glass
Cool a bit and Transfer to cool down oven asap
Get colored glass Making a mold form plaster Blow a bubble
Get more glass Blow   More glass Blow   More glass  Blow    More glass
                                                                  Wait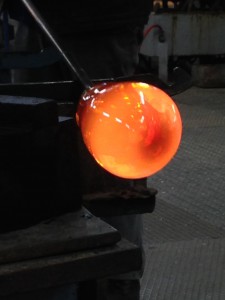 turn a lot Shape a bit Wait for perfect temperature Open mold Guide mass of glass bubble into mold Let the mass sink Way to hot and to much glass Drops quickly to the bottom Try to safe glass by pulling the pipe all the up                Pressing the mold
Blowing
Pressing
Blowing
pressing
Glass goes trough the sides of the mold Open mold Glass still soft
Rest glass on floor get gloves Pick up glass  Bring to cool oven