The exhibition The Future of Fashion Is Now at the museum Boijmans Van Beuningen in Rotterdam features established and upcoming designers questioning and challenging the premises of contemporary fashion. One of the contributing designers is the canadian designer Ying Gao, who in her work Incertitudes used speech- and motion-activated sensors hidden within two white dresses covered with thousands of small needles, reminiscent of porcupine coats. The gestures and noises of a viewer or passerby forces the attached pins to move, transforming the garment as well as the contours of its wearer. In her description of the piece, Gao refers to the constant stress and uncertainty of modern day individuals, always flexible and ready to adapt to new situations.
Gao was participating in the section of the exhibition called Materiality and Experience, which makes perfect sense in consideration of her other works, also making use of innovative technological solutions. Besides Incertitudes, she has also investigated light-reactive electronic components, by creating coats that move depending on the intensity of a light source, such as a flashlight. Involving interactive techniques in fashion could bring a sense of dynamism to the concept of clothing. When permitting participation/interaction with surroundings and spectators, the pieces rapidly distinguish themselves from any garment that is delivered already "done". Bypassing flatness and immobility, they become equipped with a quality of sensibility and refinement.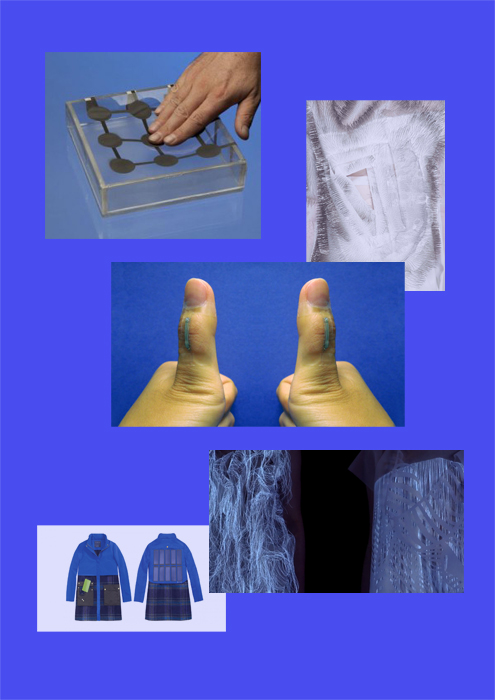 1.
• Flexible Pressure Sensors • Incertitudes (close-up) by Ying Gao • Silver nano wire sensors • (Now)here (Now)here (close-up) by Ying Gao • Solar Powered Jacket by Tommy Hilfiger
Combining aesthetics with the latest technological developments is not always an uncomplicated process. Successful and sophisticated design of hi-tech clothing is still limited to a small number of fortunate tries. We slowly move away from the "ugliness" that usually haunt technical innovations in their early years. The industry could be seen as going through a process of normalization, where the feeling of the relatively unnecessary "tech gadget" is left behind.Designers experimenting with the new possibilities are however operating in an unexplored grey area somewhere between usefulness, beauty and supervision. When letting technology become autonomous and enabling it to take its own decisions, the designer releases control over the outcome. Reducing his or her position by introducing chance and fate will inevitably lead to new opportunities and new situations.
Although the integration of data-collecting sensors in fabric has a natural relevance for the innovative clothing designers, the use of such equipment will most likely not be restricted to the fashion industry only. This could mean infinite possibilities – the risk of abuse on civil liberties should be taken into consideration. What if the occurrence of intelligent fabrics was as widespread (but also overlooked) as surveillance cameras in public spaces? If biometric textile was put on the seats of public transport? Or misused, as if put on animals or plants? How would our experience of daily life change if speech- and motion reacting sensors were installed in supermarkets, shopping centers, cafés? If objects/garments changed with the impact of our mere presence?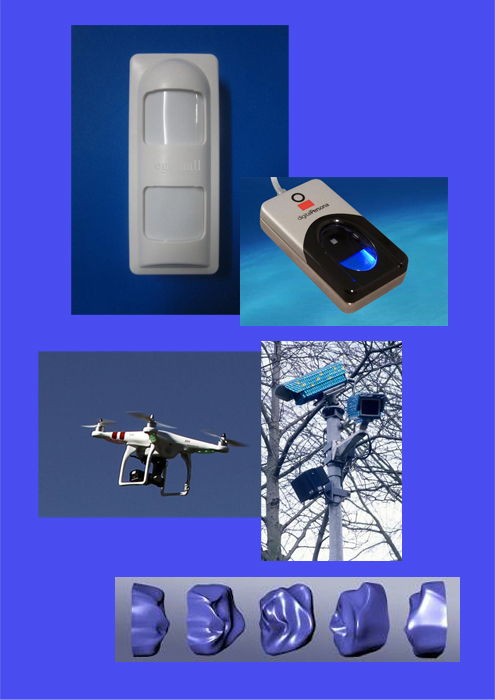 2.
• Infrared motion sensor burglar alarm • Digital persona Fingerprint reader • AR. 2.0 Parrot Model drone • System Azure Security Ornamentation by Jill Magid • Facial Weaponization Suit by Zach Blas
It is nowadays clear that smart wristbands (as well as watches, jewelry and other attachable items) tracking, measuring and analyzing the bearers every movement is a constantly growing industry. The technique of smart fabrics and integrated sensors in clothing is evolving equally rapid, thereby soon making the act of strapping on an external device unnecessary. By inserting sensors capable of tracking very precise information already in the fabrics, data on motion, size, location, force, weight or shape could easily be collected.
Technological monitoring of human movement is however nothing new. The first closed-circuit TV cameras (CCTV) came into use already in 1942 during the observation of a rocket launch in Peenemünde, Germany. Surveillance camera systems performing continuous video recording has been a common practice almost ever since. Among more recent developments are biometric recognition (face, fingerprints etc), aerial surveillance (helicopters, drones etc.) and naturally everything related to internet and social media. Could the integration of intelligent fabrics be a suitable addition to this process?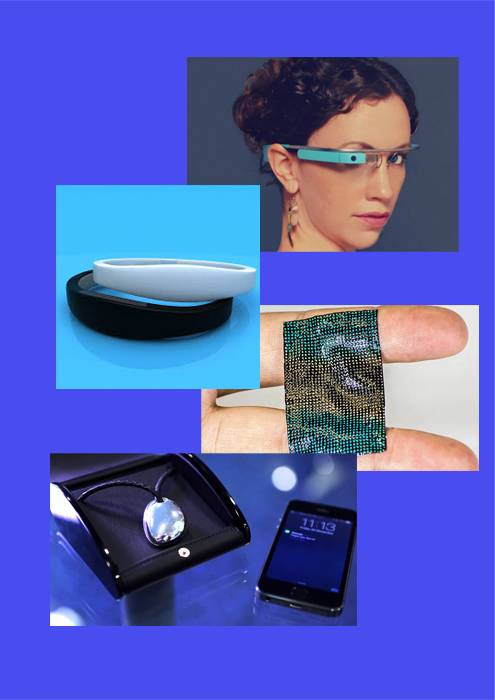 3.
• Google Glasses • Ritot smart wristband • Flexible Skin Temperature Sensor • Necklace Projector • Smartphone
New wearable technology are in some aspects already being used as a means of self-control and self-reflection, as a way of eliminating chance and the unforeseen at any cost. The behavior could be linked to the ongoing obsession with observing and measuring the own body. Health, sport and the perfecting of ones physical appearance has gotten a new trendy twist with smart apparel, fitting quite well into the all-encompassing life project certain enthusiastic users are living by. Are we moving from an attitude of authoritarian respect from earlier times and into a slavery of self discipline and personal surveillance? From the all-seeing, omnipresent monitor to the individual supervising itself?
The existence of hidden, interactive sensors and reactive fabrics is undeniably a relevant topic – the potential is striking. Anyone curious in new means of communication could possibly avoid the advancement of smart textile in modern daily life, reaching us all within a very near future.
On a personal level, I ask myself if there could be some sort of spirituality to be found in this technology of supervision? Is there an empty space to be filled in secular societies, leading up to this voluntary self-surveillance through different types of apparel and other devices? The subject is fascinating both from an artistic point of view as well as a philosophical/ethical one.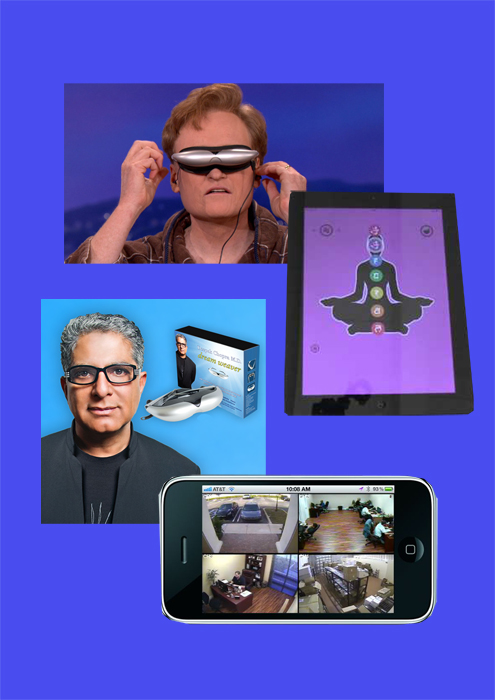 4.
• Conan O'Brien tries Dream Weaver (video) • Chakra Balancing application • Deepak Chopras Dream Weaver • iPhone surveillance
How do we as individuals deal with the concept of spirituality, truth and privacy in the age of technology? The adaption to new conditions is unavoidable, but becomes more and more a matter of privileges.
The revelations on to what extent state supervision is currently practiced (Edward Snowden, NSA, Wikileaks) chocked a whole world and deepened the conflict with the established, monotheistic religions believing in the One and only God to monitor and judge all human action. Surveillance relates to different aspects of privacy, such as privacy of property, of space, of personality and of thought. Worthy of note is that not everyone has the economical means to question authoritarian demands on personal information, with the consequence of privacy possibly turning into a valuable property that only a select few can access.
New forms of spiritual practice and/or self-monitoring take shape with the aid of technological devices. Smartphone applications connected to health, higher power, meditation, zen etc. are immensely popular, offering a re-charging of the soul similar to the charging of batteries. When spiritual leaders such as Deepak Chopra releases biosensorical glasses promising relaxation and inner peace the merging of spirituality and technology is indisputably a fact. Are they all yet another expression of an egocentric, self-obsessed Western society or a useful tool to actually reconnect lost searchers of truth?
In any case, a space has opened up for an intimate, personal form of spirituality disconnected from the dogmas of organized religions whilst also distancing itself from sovereign state control. The idea of scientific knowledge as the superior way of accessing truth is once again questioned – and is it necessarily in opposition to all spiritual methods? To conclude: it is visible how technology/the visible and spirituality/the invisible intertwine and affect each other more and more in modern societies. This provides interesting opportunities for artists to question and investigate further, and I am certain that projects such as Ying Gaos is only a preview of what the future will hold.