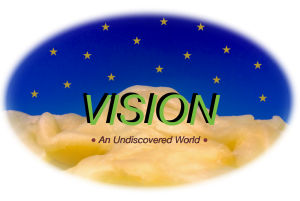 I always felt this inner urge for adventure and to built crazy machines like airplanes. I never thought I would ever be capable of doing so, so I never tried to realize these dreams. Until I found out about Joost Conijn. He's an artist that builds his own airplanes, cars and other vehicles. I tried to contact him. This ended up into an email contact drama. Then I tried to meet with two other, but with no result.
Eventually, I thought it to more challenging to go to a specific place in which people exist. For me it was important to spontaneously meet a person and not having an email contact introduction. I went to a church. Religion, or in this case Christianity, is such an undiscovered way of perceiving the world for me. It feels so distant and isolated from what I think is the 'truth'. The main idea was to talk to a person in a confession booth to talk about my 'rage' that nobody cared to meet me or help me with my project.
The day I went the church was closed and the confession booths were out of use, but a small chapel was open. Two ladies opened the door and one of them guided me to the chapel.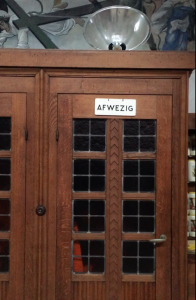 A confession-booth with a sign that says 'afwezig',
meaning absent in dutch.
She told me about what her relation was to religion,  about the future of religion and the people that come there. She said that religion resembles the inner truth to existence. People who believe, are people that have felt a lot of pain in there life or people are simple raised that way. Pain brings people back to the ground, it makes people see the light and realize what's really important. She says that people nowadays also have to much distractions, people shroud themselves with fun and give importance to things that really differ from what she says is important in life.
Our conversation was so honest. I realized that if I were to talk in a confession booth about certain things, it would almost feel like I'm mocking the people that actually go to a church. Talking to this woman, made me realize that there was far more than just believing, it was an undiscovered world.
I thought the element of pain was something to work further with and for me after the talk religion in a modern society also became an interesting subject. What makes people nowadays believe and how is religion holding up. The interior of the chapel was very modern and recently renovated with unnatural white lighting. One lamp was broken and blinked the whole time, for me that felt like a metaphor for religion in a modern society. Also the whole ritual churches have of lighting a candle for good fortune inspired me. Especially because wax is also known as a material with healing abillities, it made me think of the people in pain that decide to devote their lives to Christianity.
Click ->
My first ideas how to translate my experiences into matter. Candle-like drawings with lightbulbs.
For me it felt obvious to make a lamp. My first idea was to make a lamp out of wax in the shape of a candle. After some feedback I realized that I wasn't using the wax in a way that I could fully explore the material. I had an idea to make a lamp and using wax was just to live up to certain aesthetics I imagined in my mind. So making a lamp was to limiting.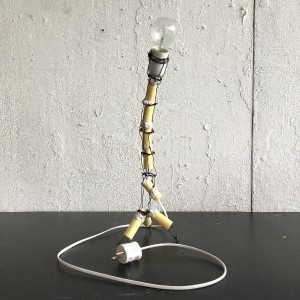 A construction for a 'candlelamp'. The idea was to pour liquid hot wax over it so the construction wouldn't be visible, but it would look like a candle with a lightbulb instead of a flame.
——————
I started rethinking what my experiences were going to the church. Looking back the aspect of suffering and this isolated community of people that kind of live outside of society were the strongest memories. I started working with a big chunck of wax and started carving into it with a spoon, it felt saying a prayer over and over again, a road of suffering… Eventually this weird religious object came out of it, looking like a plate. After this I started making objects that resembled a kind of ritual, but in a way that I used very recognisable objects and used the wax to melt them together and creating a totally new function.
These are three of the eventual religious objects I made; a cup together with a leaning carafe and a square plate with it's inside carved out with a spoon and with an object that fits in it that holds coctail picks to display small foods.
Then came the idea to go back to my startingpoint, church, to make my objects interact with what made me make them. The voices in the video are recordings of collective praying by the people (just ladies) in the chapel. It is said that jesus is present in this chapel, they were singing directly to jesus.
—————————————