When I walked around In the van Abbemuseum in Eindhoven I was very enthusiastic when I found a beamer projection on the wall which was playing an old movie.
The name of the movie: Man with a movie camera, was new for me, as well was the artist: Dziga Vertov.
As I stood there watching a city was shown to me. this has to be Russia I thought. But I could only guess it. As well as I could only guess to the meaning of the images: the busy street shots at one hand and at the other hand the shots of filming camera's.
This is the reason I picked this work, because it tickled my curiosity.
The movie dates from 1929. How wonderful and fascinating to look true time and space, I thought.
At home I looked up information and watched the movie completely.
So it appeared to be that Dziga Vertov was born in Bialystok (now a days Poland) in 1896 under the name Denis Arkadevich Kaufman.
Vertov was an idealist. He wanted to show his audience the truth but at the same time let them realize that the truth in a film is manipulated. He does this by showing only shots of what is truly happening; so no theater, script or film set and involving in his movie shots of filming camera's. With a very experimental movie as consequence.
I find the idea interesting, although it is for me completely different. I don't mind watching complete fiction, I am more interested in how the images look.
The images in Man with a movie Camera are really impressive. The shots (frozen and moving) are photographical. The editing is in the film is musical.
This is maybe the reason why I fell in love with it. Since my eyes are always searching for photographic images (photo or video) as well as I am interested in the editing of movies.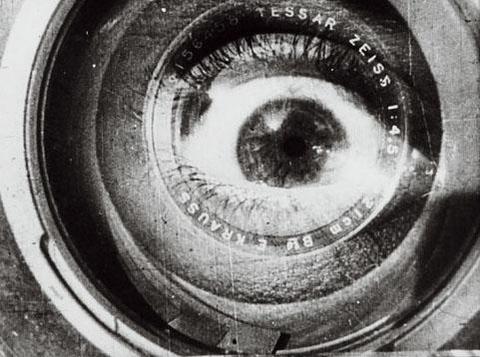 Shot from the movie; the audience eye
for more information and complete movie: link to The Man With The Camera
http://www.brown.edu/Departments/MCM/courses/MC150-03/manovich/manovich.htm
or :
http://donamajicshow.tumblr.com/post/578155092/man-with-a-movie-camera-1929