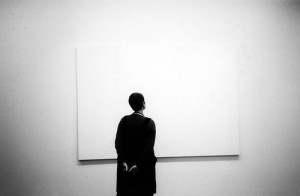 Last week I wrote a posting about a student in the middle of a project, of an exchange of her and other peoples ideas, all seeming fruitful and full of inspiration. This week I visited her again, anxious to hear new developments. She was stuck.
Many artists experience this during the process of making something and a walk around the basic year revealed many tactics in getting back on track:
Have a beer

Be hungover

Go to a junkshop or flea market

Make all kinds of small things related to your project

Analyze all different parts, what do you want, what does it mean etc.

Talk to someone

Do something else

Find things that are completely non-related.

Or just keep on going, stuck is just an idea in your head.
Or do some Automatic Writing, which happens to be also an album of a great band.
Here's a jam from them, featuring some pictures of your typical inspiration-seeking person.