All people have their own desires whether it is small or big. They try to bring their desires to life; however some people won't be able to because they are too out of reach. For example some may say they want to fly to the moon, other may wish to be abillionaire. But there are also very realistic desires that cannot become true. These are the ones I want to talk about.
In Korea, there is one traditional job called « Haenyeo », which means « sea-women »; who are traditional Korean woman divers. This job only exists in the southern part of Korea, especially on the islands. Today, more than 5,000 divers still remain on these islands. They are specially strong women. A long time ago in Korea, women could not join the outside, sometimes they even couldn'tgo out their house. Nevertheless, these women not only worked totheir living: they also worked for their peers. They built their own society using their power and refusing men's help as in the past, so many men who lived on the islands died of deep-sea fishing. Only a few men survived from the strong waves and tough windy weather, so that the women who were left behind had to find a way to survive. These circumstances brought strength and uniqueness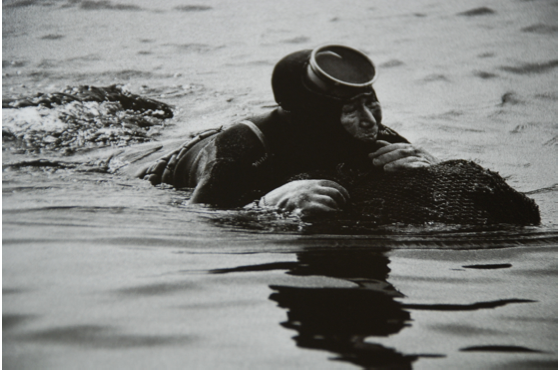 They only wear swimming suits, goggles and fishing nets. They hold their breath while diving to catch seafood until they are out of breath, which means they are always endangered. Therefore, the women fight for their desires because this will is what gives them the means to catch the widest number of fish; but can also drag them to death. Sometimes, they only want to catch a tiny piece, not even a pearl, but the greed is still their to endanger their lives. only use swimming suits, swimming goggles and fishing nets.
The ocean is one of the greatest powers of nature, so divers do not wish to earnmillions with their fishing because they say it is too arrogant toward the sea. Humans cannot create te sea – they cannot create animals such as an octopus, a fish,a clam. These are made by the great nature so the humans should be greedy towards it. Therefore, divers want to show their gratitude to the nature so they pray for it to save their lives, and not to earn money. Theyalways have to turn off their greed. Their truedesires. It means that they need to control themselves because surviving is the most important. It looks like theyare fighting between their desires and their lives. Their desires are always related to their lives. At the same time, with death too. When they dive into the ocean, they can see everything but they know there are things they will never be able to catch.
 I wanted to focus on their desire to catch something they cannot reach. I used eight bamboo, glitter thread and fabrics as my materials. At first, I was inspired by spiders which is a lucky charm in their society. I illustrated the spider with eight bamboo sticks. However, bamboo sticks did not have enough strength to stand still so I decided to add three leather belts to the bottom in order to make it wearable. These gave some strength to the structure, and I really wanted it to be worn on the head as a relation to divers' shamanism. Women divers usually pray to the great nature, especially to the 'God of the ocean'. They believe that the Gods live above the sky, therefore, the main focus of the head-piece was supposed to be above the head. But I faced problems. The leather belts did not give enough strength to my head-piece. It needed more support in the middle and at the bottom. This was one of the biggest problems of my process.
sketches:
The first solution to this problem was to give the head-piece some strength in the middle. I made a small precious fabric package and placed it in the middle. I was inspired by the Korean traditional way of wrapping gifts. Usually when Koreans give a precious gift to someone, they wrap it in fabric. It means that the gift is protected from bad things.
I made an object like that in order to illustrate the desires of the woman divers wrapped in fabric, but it still did not give enough strength to my head-piece. I had to find a way to wear that super heavy and tall head-piece and I realize d that using only my head is not the best way to wear it.
In addition I wanted to express the feeling of one trying to reach for his breath. In the end I decided to wear it on my shoulders and fasten it to my head with leather belts. As a result when I wear it I feel like I'm choking.
<Final results>