Dealing with a personality, and making a mask out of it in order to feel it, was quite a task. I found myself both in the position of a psychologist analyzing a person's mind and a physicist creating an object that should reproduce a feeling of a personality.
The topic we were given for this project was to find someone that fascinates us, try to understand their personality and make a mask out of it. Of course at first this immediately leads you to think of people you care about and admire. It feels a bit like putting your loved ones on a pedestal. But that wasn't the point, and in a way, analyzing their personalities didn't give me the satisfaction and rush to work on it. I needed someone that I did not know or understand yet, I needed a challenge
.
So,              then; a girl I met last year popped into my mind. a girl I barely knew, a friend of a friend. and the little that I knew about her, was so little that it completely confused me; each time I thought I finally understood her I learned something knew that made everything I knew before fall into water like it never existed. she was so confusing, it was exactly what I needed!
.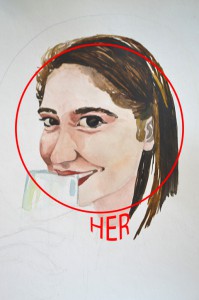 BUT, WHO IS THIS GIRL?
IS SHE HAPPY? SAD? ANGRY?
DOES SHE SEE THE WORLD AS A RATIONAL PERSON DOES?
OR AS A DREAMER?
WHAT DOES SHE DO?
WHERE DOES SHE LIVE?
WHAT DOES SHE LOVE?
WHO ARE YOU???
This meant a lo-o-o-ot of thinking, struggling, rethinking, investigating (?)… I came across a problem. She was indeed perfect. Too perfect. Step by step I just got more and more fascinated by her. I put her on a 'pedestal' without wanting it. So, I had to do it all again. And again. With complete new questions, and complete different answers. After all this was just my interpretation of her. Until I finally thought of three main aspects/ideas that I thought could fit her personality and that I would use in the mask.
1. She is perfect, but in a physical way. And she seems to strive to keep it that way at ALL times.

2. She is ve-e-ery driven by her ambition.

3. And seems to hide her feelings.
That last one got me most exited, finally something I could work with,
something NOT PERFECT. So I started:
(OR MAYBE, FIRST MATERIALS)
As I am a 'devoted' perfectionist, my projects often start with details which I then try to bring together and arrange, deprive, until I get to a purer and clearer idea. Like zooming out from a really zoomed in place on google maps. My ideas began forming a sphere.
I started with stones; minerals, the presentation of deep, complex, hidden feelings.
Longing for more art in an art project I decided to make my own.
Little pieces of fabrics and foils melted into liquidised glue sticks suddenly turned into mischievous stones.
I had great fun doing it. It made me continue.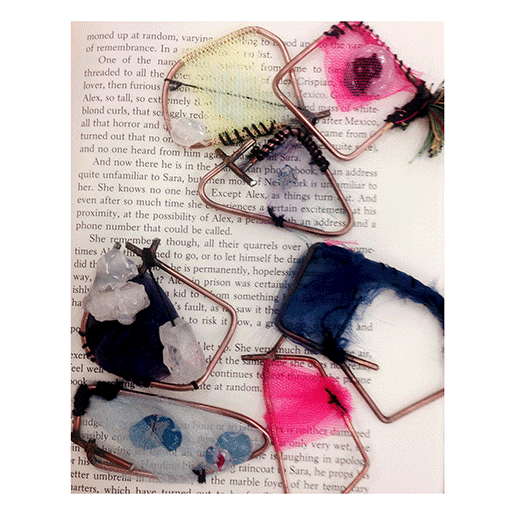 This time it would be foam, another material aching to be turned into stone.
Mineral.
Feeling.
Just a touch of aquarelle.  
Soon enough I had all the acquirements, the third step long done before the first two had even started.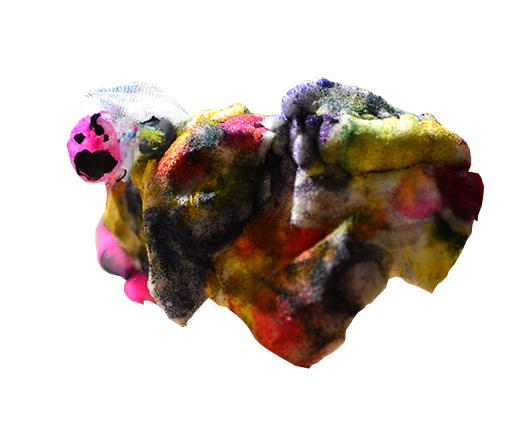 FRAME:
How do you make a frame of somebody's personality?
Of someone you barely know,  a personality you imagined?
Should it be a hat?      Should it be compact?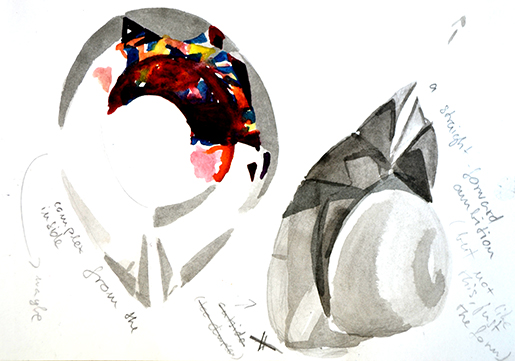 Or free,  and light?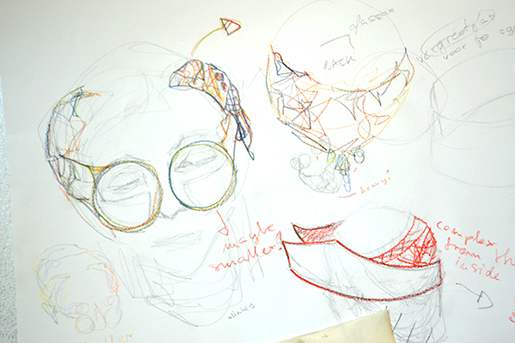 I had no answers to these questions, instead I turned to materials. Again.
this was the result..
A metal construction instead of a hat, and of that kind of metal that would originally only be used for welding. Thinking back, this whole project was, at least for a little part, often based on 'giving materials another kind of life'. With the 'glue stick minerals', 'foam stones' and at last 'welding metal that turned into a construction for a crown/glasses/mask'. And at last, THE GREAT AMBITION, something I've subconsciously been thinking about since the beginning had to be added. It started as two plastic 'glasses' put in between all the metal and feelings and that would only let you look RIGHT IN FRONT OF YOU, not left, not right, not even up or down, in the end turned into real glass.
And maybe a part of the three ideas got lost in the making, with the attention turned more to the materials following the idea than the idea created with materials. And maybe my guess of her personality is completely mistaken. But it turned out to be an object that could speak for itself no matter how it is interpreted.
So here, let it be seen as anyone wishes to see it: