I chose this project because I find really interesting how every human in the world even the most peculiar looking ones can be catalogued in a group. It always intrigued me how much you can express with clothing and where are the borders between being unique or just following fashion. The photographer Ari Verluis and the stylist Ellie Uyttenbroek have been working in the project Exactitudes for more than twenty years, the name of this project is a fusion of "exact" and "attitudes".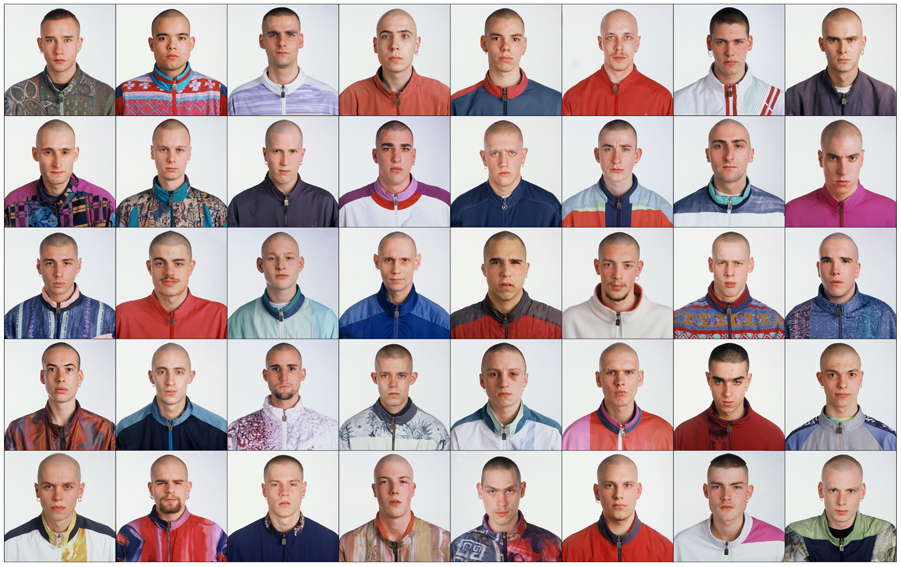 Vetements which was also in the exhibition Change Makers used Ari and Elli's work as an inspiration for the autumn/winter 2017 collection. This underscores the critique of the fashion world. After the collection was online big chains started copying it. This open really important questions about actual fashion.
The presentation of the photos they take are always the same, a grid of three by four, making it almost a catalogue of types of persons where you could find your urban tribe.
Exactitudes started in Rotterdam but actually they work all over the world. It analyses how depending on your surroundings your style will be different. They say sense of style is something you're born with, using as an example the kids who use school uniform, the ones that even wearing the same exact thing make a little difference like wearing a chain or rolling up his sleeves.
This project is not that much about fashion but more about people and it really has an anthropological quality that it's admirable because slowly it's documenting the changes in society thru the years and how some factors like social media.
To understand better and interpret my subject I decided to recreate Exactitudes but with a twist: doing it on Tinder. Tinder is a dating app where you swipe left or right if you like the profile of the person or not.
cat owners and dog filter
In the profile you create, you are able to post four photos where you have to sell yourself. You can also write about you, (but no one reads that). This dating app works visually. The pictures you post will make you have a match or a sad love life with no matches at all.
In the interview for the catalogue, Ari talks about the process of finding / collecting people and how they just sit in the street and wait for the right person to pass by. For me that process was more active, I first had to find which group I wanted to categorize. As soon as you start using the app, similitudes between the users pop up, and even though you can't take photos of them with a white background and the same pose, when I arranged the screenshots in grids it was impressive to see how similar the photos were.
The research I made wasn't that much about clothing, but there's something in common with clothing and the images you post on Tinder to introduce yourself. They both are talking about you without words. You want to reflect your personality with them, it's like a mute introduction of yourself.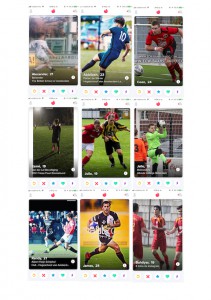 soccer players
Probably the people I put together in some of the grids won't think they belong to the same urban tribe. I focused more on the attitudes they reflect on their profiles more than on what they wear. For example the soccer players, by making the choice of introducing themselves with a photo of them playing this sport place them in an idea of the kind of person they can be. The same exact thing would happen if someone shaved his head and wore a bomber, these decisions reflect a statement of who they are or how they want to be seen.
world saviors and barbies
World saviors is another example of how with a single image you can make a strong statement. They try to sell their person and reflect how merciful and helpful they are with the most needed ones. This could not be shown with clothing,
Now that Tinder and other social media platforms are opening opportunities for people to give the image they want to show of themselves is time for a new Exactitudes, but now in the virtual world.