The stalkers approach: A place and time is picked, and whoever, unknowingly, positions themselves in the spot of direct eye-catch, will be the victim. This person is objectively observed and described down to detail. The documentation grows more comprehensive and precise, following what details every movement reveals, until the object leaving the spot of observation marks the end of the session.
This particular observation was made during one and a half hours, from behind and in the dark. Gender remains unknown.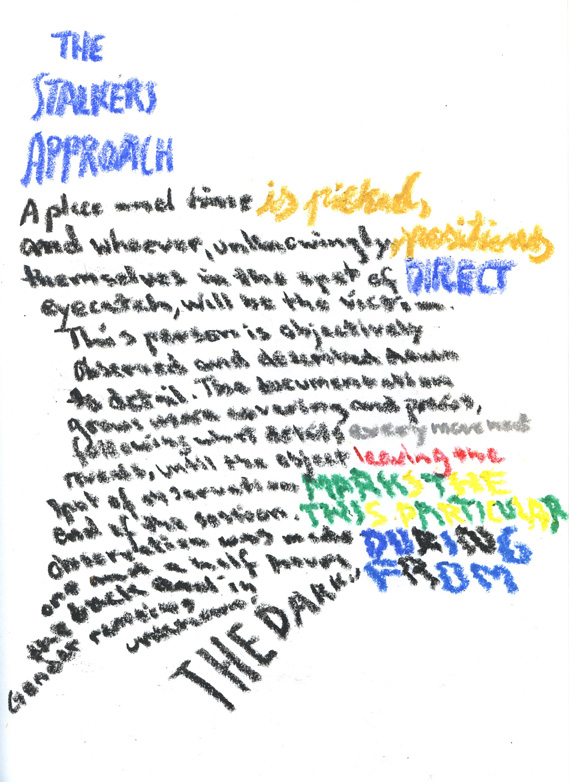 The text is given it's visual form by what was observed during the session; colours, shape and direction of the words is dictated by these exact notes that were taken:
->Brown curls, shoulder length, wildly arranged
Jacket hung halfways over the chair in a sloppy way
Black leather, black synthetic fur collar, Left flap touches the ground
Scratching back, touching hair; thin blue sleeve comes visible: crochet in patterns, loose flaps at elbow, probably loose layers around the underarm
A slice of greyish jeans are seen between seat and backsupport of the silvergrey foldable steelchair
On the ground to the right lies a knitted black, blue, yellow + green bag with red top and zipper, handbag, approximately ten liters, decorated with pompoms hanging from each corner; braided with loose ends, made from all the yarn variations that occur in the knitted volume. Pattern: schematic spine fractions, line, line, one-time pierced rhombus, surface with fringe; shoulder hanger is attached with steel chain through rings
Right ancle is shown quickly, no skin, but torn, thready jean line
Left-tilting: Head (slightly, but this seems to be the preferred default-side), Jacket is thrown over left side of the chair, Bag tilts to the left (towards chair). The door is also on the left side.
Hair pulling makes a golden watch visible; 1 1/2 cm thick classic watch link armband
Rearranging: fur vest is pulled forward from under the jacket; put on, taken off, put over the chair, light grey knitted sweater with pattern that is traditional somewhere is chosen to be worn as first layer, then fur vest, then over-but leather coat.
5 cm heels (wedge)
Two bags: one red, one knitted.
Leaves early.
The now empty space has two knitted white sweaters in front of it, stripey fur coat to the right and burgundy hoodie to the left.
For the fashion show that finished the project off, I wanted to make an Observers Outfit. Does the observer want to be seen? I made golden glasses from two large key rings, two coat hangers and some see-through gold/silver foil,. With their both square and round shape and folds it gives the carrier a crazy, starry gaze. To go with them, I made a see-through plastic coat, with the window pattern of the academy building, viewed from the outside, on the back and a little collar on the front.