After many month we finally present the research results into 25 selected books from the "Collections Groenendijk". During a one-hour event every student was presented with the opportunity to start-up a research into the manifest art or design concepts presented in these unique book designs. Designers Julia Born and Will Holder were presented through an interview-DVD made by the graduate program of the "Werkplaats Typografie Arnhem" for the Chaumont festival workshop 2005. Others projects, by Richard Niessen or Andy Warhol, were presented at an visit to the Stedelijk CS, where their books were displayed in context. Coralie Vogelaar (a Sandberg Master) came to visit us in person to give insight in her work and ideas and lecture on the concept behind her latest publication "Masters of Rietveld: design in the 21st Century" published recently by the Sandberg Insitute /Design [above: Niessen TM-City / Warhol Index-Book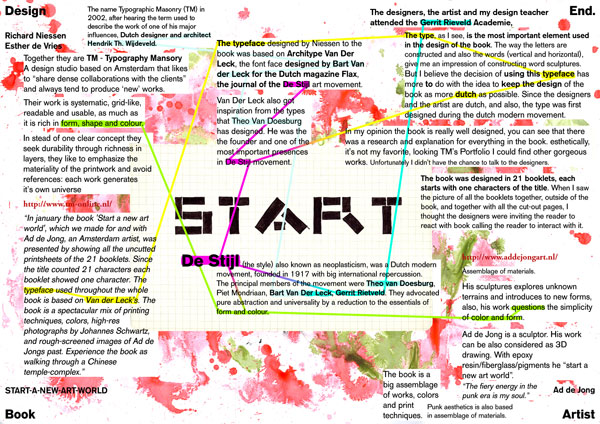 Caetano de Carvalho on "A New Art World" by Richard Niessen + Ad de Jong
Research material was edited down to A4 sized guided tours into these subjects. All subjects presented in this list are also available as hard copy prints at the Research Folders at the library. The investigation focussed on the following book titles: Ed van der Elsken's "Love Story in St Germain", Irma Boom's Grafisch Nederland 2005 on Color, "Start A New Art World"(published above), the acclaimed cooperation between photographer Geert van Kesteren and designer Linda van Deursen "Why Mister Why", "Hhalo" by Julia Born and Rebecca Stephany's "Archiving Today"project. Last 3 ladies all teaching at graphic design department.
Daniel Spoerrie "An Anecdoted Topography of Chance"(extra info), Dieter Roth's "Dieter Roth Band 10", "S M L XL"by Koolhaas, Sandbergs "Experimenta Typographica": Mens Sana in Corpore Sano and "Counterprint" by Karel Martens. "The Thing" by Norm designstudio, Andy Warhols classic 1967 "Index-Book", Will Holder's "Catalogue": starring Gijs Muller, Edward Ruscha's "Colored Peolple", Richard Niessen's piece de résistance TM-City.
Sandberg Institute Master: Coralie Vogelaar with "The Photoshop" and "De Hedendaagse Ontwerper", Gerald van der Kaap's original " HoverHover" and the monumental cooperation between Jonathan Barnbrook and Damien Hirst "I want to spend the rest of my life everywhere, with everyone, one to one, always, forever, now".
Finaly some highly conceptual magazine concepts like, the 1980's I-D magazine 2, Jop van Bennekom with Re-magazine: 'Hester', Permanent Food or Stuart Bailey's "Dot Dot Dot" magazine.