In the design exhibition of the Stedelijk museum, when you see the objects displayed in terms of "surface", you can see what you can feel in the three kinds of stones obtained from nature and human touch.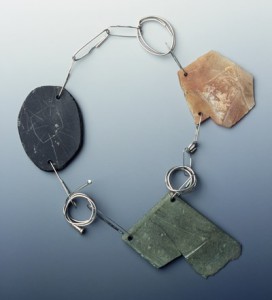 Bernhard Schobinger -Zurich CH [1946] • velo speichen kette [1988]
These three different kinds of stone, and they are fragments of a huge object that contains their own time and story.
They were also woven into a spoke chain, a part of a bicycle, and became a jewel with objects made by human beings that seemed to fit. This seems to be pretty rough, but the combination of color and the trimmed stone and bicycle key chain is harmonious. Also, the inscription of each other method makes another section, and the meaning that each section conveys has come to me very symbolically.
In Schobinger's work, we can see that there is already a concentration of colors in combination with what exists in nature, its meaning, and personal experience. And it can be guessed that it is also meaningful to collect the  minerals that is made by volcanic activity, one of the quartz-the second most abundant mineral on the planet he chooses, and weave them with iron, a familiar material in everyday life. It was also interesting to me that the selection of quartz minerals with colorful colors, especially in minerals.
The general view of the occasional visit to the stedelijk museum and the perspective of looking at a particular viewpoint – surface gave me a very different analysis. The reactions of the surface of objects with different physical properties and the created, intended surfaces were found at the same time and when they were discovered sequentially. It gives us a sense of unexpected angles, such as fine touches on the outside, exotic patterns, physical properties itself as well as their meaning.