"What is art?" would be a long discussion subject. So there is no discussions about it, I claim my own hypothesis on this question -art is an experiment of telling your personal motion /thought /opinion via any form of communication . Let's stick to the word experiment.
What is experiment? Wikipedia says An experiment is a methodical trial and error procedure carried out with the goal of verifying, falsifying, or establishing the validity of a hypothesis. I think  everything you are giving to show to other person becomes an experiment based decision because you can predict but you'll never know for sure how she or he will respond . So every story/ movement/ your daily life processes when viewer involved becomes experiment/art  …if you ever had doubts who you are –my congratulations you are an artist!
Let's go deep in to the first steps of this kind hypothesis ART creating , the part that is before the "showing out on public" experiment. Richard Niessen (graphic design artist) gave me some background to start from with answering "What is your opinion on experiments ?"
-"Well, it's not that I like to do experimental work because I want to experiment. It's just that I need to do these experiments to find solutions that do not yet exist. I always believed in work that is very outspoken, but I do not want to lean only on style. So the experiment comes from the search to make something appropriate for the subject, in a radical way. The experiments are always design-driven."
and "Do you prepare yourself for experiments or sometimes they just happens during the working process ?"
-"Sometimes there is little experimentation necessary, sometimes it takes a very long time and a lot of try outs before I come to the right solution. And talking about experiments: there is always this element of risk, like in scientific experiments, you never know if it really is going to work. In the case of printed matter, I only know this when the poster or the book is in the street or in the store. I have the 'feeling' that it will work, that's the hypothesis."
So process of making art piece is experiment based cooperation of doing and thinking.
One day on my back way home from academy I stopped with this thought:
Usually materials I am using are like viewers -they act, sometimes predictable sometimes not and my decision is based on the particular stage of creating art /so i become viewer for my own experiment/art. In this moment you can increase your idea to keep it going where it goes or change the way it goes to keep your idea.
So I could use more speakable materials like people to find out flexibility of my thoughts and acts in unusually open way in usual environment .
I decided that the simplest moment of our everyday life where we see other people is road (way home or to your job or somewhere, whatever you go) . You "meet" people on the road and you seeing them act somehow/for example you think about them – that's already an act ,especially if you make serious face during this thinking process ><. The idea is that people can choose reaction or make it up to tell more /show more not just keeping on automate their reactions. I mean If we are an artists…than we are not really good ones. This moment of 3 seconds ,when you look in to the stranger eyes walking by you is used uncreative, it doesn't go farther than a smile or "hy" I mean that's great(!), but how much does it says about your mood, day and personality? I do believe you can even start conversation from that , but that's not colourful on the level of act/standard experiment .But if you have new language involved that was made up on the spot  that's freedom of expression what allows  to play with this moment as much as you can…as artists in museums playing with their art pieces viewers. Making them wander/questioning/screaming "HELL YEAH" or "NO WAY" !
Playing around with/conclusion of  this hypothesis: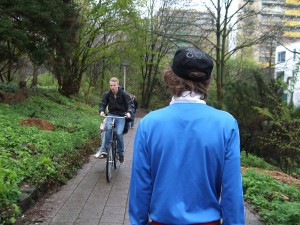 like I wrote before: I want to try change idea by starting acting and change the way I am acting to keep the idea .
first part: I was pretty tired this morning and i started from showing my mood of willpower to stay awake ("look broadly")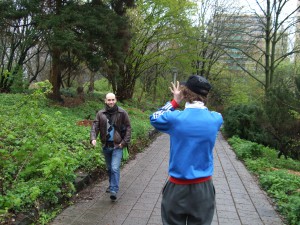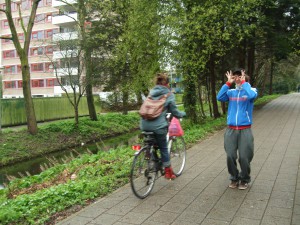 It came out good-people were smiling .
second part: I changed my expression of mood after their reaction on my "look broadly" act.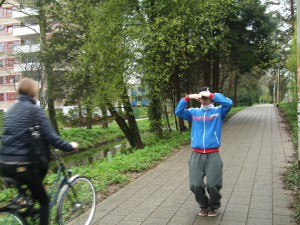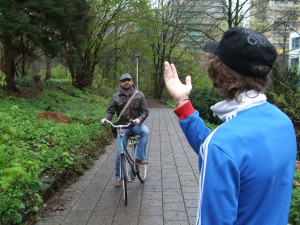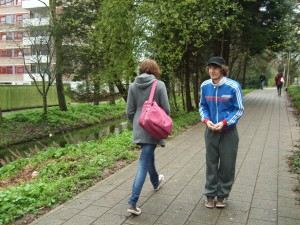 Second part was more communicable, although people where running on their job  and I didn't interact with anyone longer than few seconds . So I didn't wait for something more than a smile ,on which I reacted with my expression of happiness.
i approved my own hypothesis with getting  light motion like after visiting a museum ….and exhibiting the same time as well . Bit sad that people didn't go wild in their own expressions.By reations of some people i did saw that there is difference between museum and everyday life –it's criterion of insanity.
But if art (as an experiment) process is the same like life process why should we behave in boarders "to look sane"? ……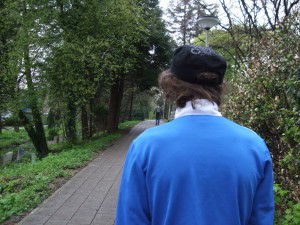 p.s.  For me personally I have a feeling that people I met that experimental day will remember this day how they meet my art like a day when they should shown their own.
KEEP IT EXPERIMENTING !