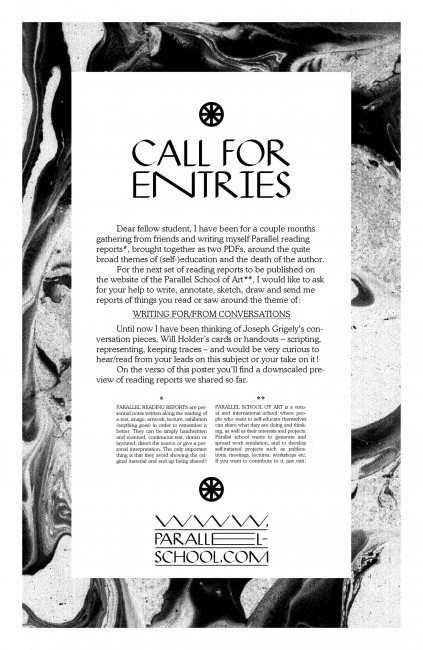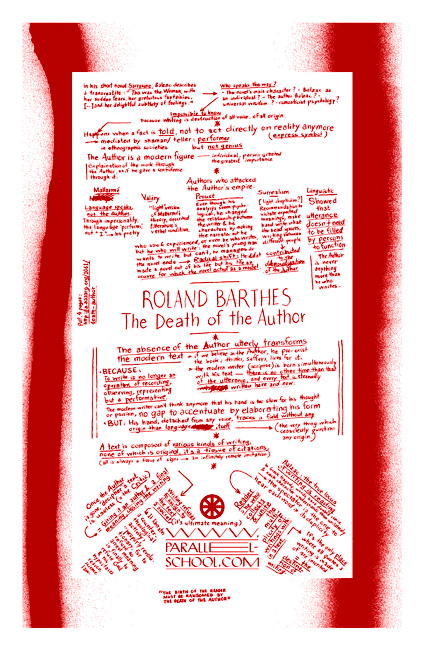 Dear fellow student,
I have been for a couple months gathering from friends and writing myself Parallel reading reports*, brought together as two PDFs, around the quite broad themes of (self-)education and the death of the author.

1 - Le Lecteur / Collectif, Nathalie Piégay-Gros • 2 - "The?Extasy?of?Influence: A Plagiarism", Jonathan Lethem • 3 - Composition n° 1, Marc Saporta • 4 - Fahrenheit 451 — plagiarism, Stéphanie ?Vilayphiou • 5- "The?Death?of?the?Author", Roland Barthes
*: PARALLEL READING REPORTS are personnal notes written along the reading of a text, image, artwork, lecture, exhibition (anything goes) in order to remember it better. They can be simply handwritten and scanned, continuous text, drawn or layouted; disect the source or give a personal interpretation. The only important thing is that they avoid showing the original material and end up being shared!
**: PARALLEL SCHOOL OF ART is a virtual and international school where people who want to self-educate themselves can share what they are doing and thinking, as well as their interests and projects. Parallel school wants to generate and spread work emulation, and to develop self-initiated projects such as publications, meetings, lectures, workshops etc.
Jules Estèves
— More details, documents and reading reports on: http://www.parallel-school.com
— More by Jules E.